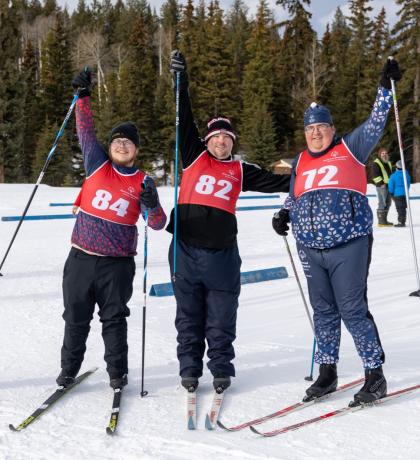 Special Olympics BC Games are back and better than ever!  
The 2023 Special Olympics BC Winter Games presented by Prospera Credit Union were a joyful success thanks to 500 hardworking athletes with intellectual disabilities, more than 100 life-changing volunteer coaches and mission staff, more than 700 dedicated SOBC Games volunteers, and the vital help of sponsors and supporters in Kamloops and throughout the province.
The competitors from 40 communities around the province came together in Kamloops from February 2 to 4, and gave their all in eight sports. The athletes were well prepared to compete with pride, after all their hard work training in the year-round Special Olympics programs in their hometowns. They returned home laden with medals, personal bests, and memories and friendships for life. As they say in the Special Olympics Athlete's Oath, they were truly "brave in the attempt."
These were Special Olympics BC's first Provincial Games in four years, after a pause forced by the pandemic. Special Olympics BC athletes were thrilled to come back together to compete and show their skills. The tremendous support from Kamloops volunteers and sponsors brought SOBC Games back in joyful fashion.
Special Olympics BC – Kelowna athlete Chris Harrington said the 2023 SOBC Games were a wonderful experience that involved "meeting people that I haven't seen because of COVID in four years and just getting back in being competitive. Kamloops has been a great host for the Winter Games – a very good job to all the volunteers that helped! I thank you so much because without coaches and volunteers, there is no Special Olympics." 
"The event was absolutely amazing. Kamloops volunteers jumped in and pulled it off – and not only pulled it off but got amazing feedback that this was one of the best Games ever," 2023 SOBC Games Organizing Committee Chair Jan Antons said. "To see the joy of the athletes and volunteers and everyone around was a really great experience."
Special Olympics BC – Kamloops cross country skiing coach and parent Curtis Howell said the camaraderie was outstanding. "It's been fabulous. Thrilled to be here, thrilled to be with all the athletes. It's been an amazing time here. The conditions have been incredible. … Everybody had fun, and everybody competed well and hopefully threw their best on the course."
Special Olympics BC – Campbell River curling coach Cheryl Clay wrote, "Thank you Kamloops volunteers, organizers, and sponsors for giving our athletes and coaches an incredible experience with amazing memories. So grateful for all that you've done to make these Games possible. Forever grateful!"
Parent Outi Divin wrote, "I am a parent with two Special Olympics athletes. They have something that makes them feel important. They are amazing. Honestly, if there was no Special Olympics, I don't know what they would do every day. … [The 2023 SOBC Games] were a great time for athletes and spectators alike. A special thank you, from us parents, to the sponsors. It means so much to our kids – thank you!!"
For B.C. and Yukon athletes, the 2023 SOBC Games are the qualifier for the 2024 Special Olympics Canada Winter Games, which will be hosted in Calgary. Stay tuned for future announcements of the members of the Special Olympics Team BC 2024 Training Squad!
At the 2023 SOBC Games Closing Ceremony, Special Olympics BC announced the host community for the next Provincial Games. The 2025 Special Olympics BC Summer Games will head to the City of Prince George, marking the third time the community has hosted Provincial Games. Find the full announcement here
Special Olympics BC's year-round sport, youth, and health programs continue to empower athletes with intellectual disabilities of all ages in 55 communities around the province. There are many rewarding roles within our joyful programs, and everyone who wants to change lives through sport can contact their local community to get involved today.
Another fun way for everyone to support athletes and build inclusion is by getting bold and cold with the Polar Plunge for Special Olympics BC. From February 18 to March 5, brave Plungers will fundraise and #Plunge4SOBC both independently and in community events around the province, including Kamloops on February 22. Learn more
 
2023 SOBC Games links
Coverage by SOBC Athlete Reporters