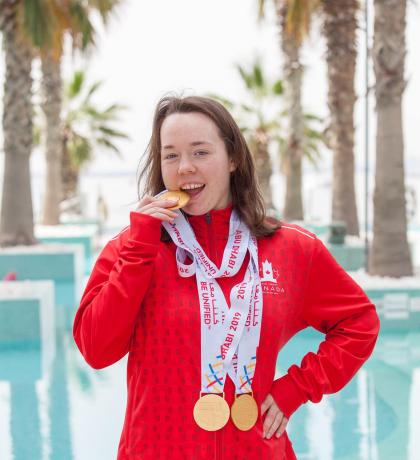 With Special Olympics BC's 43rd season of year-round programs underway, athletes are sharing what it's like to be a part of such an inclusive and empowering community.
SOBC's newest cohort of Athlete Reporters (along with some familiar voices!) has been interviewing athletes in their communities to find out what they are most looking forward to in the year ahead. They also talked about their favourite Special Olympics moments, memories, and achievements. Read on to be inspired!
Join our joyful community and change lives, including yours.
Athlete Reporter Justice Erickson, SOBC – Abbotsford
Justice Erickson spoke to fellow SOBC – Abbotsford athlete Lindsay Atkinson, who expressed what she loves most about Special Olympics.
"I feel like I'm included – it's a family," she said.
Athlete Reporter Kerri Lipsack, SOBC – Oceanside
Kerri Lipsack sat down with fellow SOBC – Oceanside athlete Brandy Knight to chat about her athletic goals for the year. Knight also shared her gratitude for the friendships she has made through Special Olympics programs.
"I plan to keep on going for many years to come," Knight says. "It is truly a blessing in my life, and everybody means the world to me."
Athlete Reporter Lauren Philley, SOBC – North Shore
Lauren Philley conducted an interview though text messages with her fellow athlete Mark.
Q: How did you get started in Special Olympics?
A: I think it was [through] you or [fellow athlete] Siann, but I'm not sure exactly.
Q: What Special Olympics sports do you do?
A: I used to do 10-pin bowling, track, curling when we had it, and floor hockey, skiing, swimming, Sport Start, and soccer – that's it.
Q: What is your favourite Special Olympics moment or achievement?
A: When I got chosen for the 1997 World Games for skiing.
Athlete Reporter Micheal Oswald, SOBC – Sunshine Coast
Micheal Oswald talked with SOBC – Sunshine Coast athlete Genny Verge, who reminisces on how she surprised her coach – and herself – when she realized that she could swim the 200-metre butterfly.
"I felt proud of myself," she said, and began to laugh. "But also … oh no, what did I just do?"
Oswald also caught up with Genny's mother, Cathy Verge. Cathy is a dedicated swimming coach with SOBC.
Athlete Reporter Rae Hartley, SOBC – Kelowna
Rae Hartley interviewed fellow SOBC – Kelowna athlete and reporter Roy Stephens!
Q: What is one of your favourite Special Olympics moments or achievements?
A: My favourite moment is when I was picked to go to [the Special Olympics Canada Winter Games in] Thunder Bay in 2020 for cross country skiing.
Q: How did that make you feel?
A: Roy said that it made him feel good and excited because he won bronze in the sport.
Q: What are your goals for this sport season?
A: My goals for this year's sport season are to train for the Regional Qualifiers for Provincial Games.
Q: What do you like most about Special Olympics?
A: What I like the most about Special Olympics is meeting new people and new friends. I feel really good about this.

Athlete Reporter Shayne Blandin, SOBC – Oceanside
Shayne Blandin caught up with fellow athlete David, who shared what he likes most about Special Olympics.
"I've met new people, and I'm getting better at my sports!"
ABOUT SOBC ATHLETE LEADERSHIP
Athlete Reporters complete Athlete Leadership training to share stories from their communities. Training for this year has concluded, but there are more Athlete Leadership courses being planned in the new year!
Stay connected by visiting our website calendar and social media channels for upcoming opportunities!
Learn more about SOBC Athlete Leadership.
Find more Athlete Reporter stories