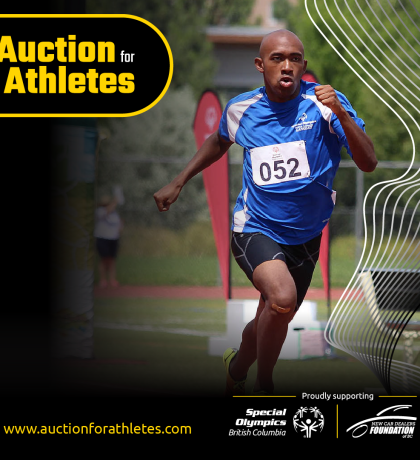 The 2023 Auction for Athletes was a huge success once again, raising over $230,000 for Special Olympics BC and the New Car Dealers Foundation of BC!
The 2023 auction, held from April 24 to 27, was the biggest yet with more than 275 sought-after prizes! The auction was steered to success by New Car Dealers and supporters who generously donated the record number of auction items, made cash pledges, bid on items, and engaged their networks to join them in making a difference.
"I am so inspired by our industry and the lasting impact they make wherever they come together," said Blair Qualey, President and CEO, New Car Dealers Association of BC. "This support will make such a huge difference for Special Olympics athletes. I extend my sincere thanks to all the amazing sponsors and everyone who placed bids that provide important support for Special Olympics BC's year-round sports programs as well as important car careers grants and scholarships."
For more than 35 years, the auction has raised more than $5.8 million to support the life-changing work of Special Olympics BC and the New Car Dealers Foundation of BC.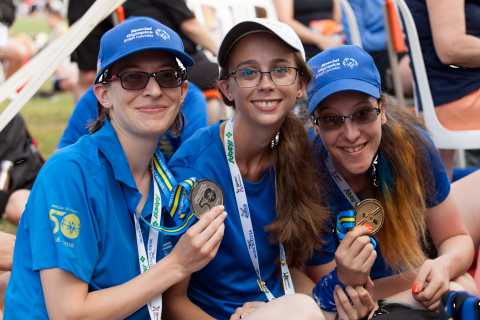 On behalf of athletes like Kayley Hendsbee, Special Olympics BC thanks all the Auction for Athletes supporters who are committed to changing lives and building inclusion through the power and joy of sport.
"Special Olympics has immensely helped my physical and mental health, and given me something I never would have expected…an entire community of athletes, coaches, and volunteers that are not only friends but family, that inspire you and drive you and give you courage to be the best you that you can be," Hendsbee says.
For Special Olympics BC – Vancouver athlete Sarah Brown, being involved with SOBC is a great way to make lasting friendships and live healthy lifestyles.
"I've been involved in this amazing organization for about 20 to 25 years. I've made a lot of new friends from different Locals and I've learned to be a team player by giving support and cheering on fellow athletes. Being involved with Special Olympics has helped me by eating healthier meals and becoming more active," Brown says.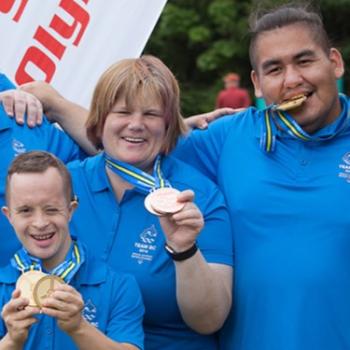 We are very grateful to Silent Auction Sponsor First Canadian Financial Group; Vehicle Donors BC Honda Dealers and Pacific Toyota Dealers; $15,000 Sponsor Chevrolet Buick GMC Dealers of BC; $5000+ Sponsors Bannister Automotive Group, Harmony Honda, W.P.J. McCarthy and Company, and The Jim Pattison Auto Group; and Media Sponsors CFNR Network, The Province, and Vancouver Sun.
Heartfelt thanks to the dedicated members of the auction organizing committee. Every year, they give countless hours of thoughtful and compassionate work to make this event a success.
Thanks to:
Manse Binkley, Harmony Honda and Harmony Acura
David Jukes, First Canadian Financial Group
Pamela Keith, Dueck Auto Group
Brad Osterman, Kia Victoria
Blair Qualey, New Car Dealers Association
Special Olympics BC and the New Car Dealers Foundation of BC extend sincere thanks to everyone who supported the 2023 auction and look forward to another exciting event in 2024. To get involved, please contact Meg Ishida, Fund Development Manager (Events), at mishida@specialolympics.bc.ca.
Learn more about the 2023 Auction for Athletes
Learn more about SOBC fundraising events


Thank you!    
SILENT AUCTION SPONSOR 
First Canadian Financial Group
VEHICLE DONORS
BC Honda Dealers
Pacific Toyota Dealers
$15,000 SPONSOR
Chevrolet Buick GMC Dealers of BC
$5,000+ SPONSORS 
Bannister Automotive Group
Harmony Honda
W.P.J. McCarthy and Company
The Jim Pattison Auto Group
$2,000 - $4,000 SPONSORS
Auto West Group
CDK Global
Dueck Auto Group
Harmony Acura
Park Shore BMW
$1,000+ SPONSORS
Go North Surrey
Greg Gardner Motors 
Island Owl Mazda
Jenner Chevrolet Buick GMC Ltd.
Pacific Honda
Richmond Auto Mall
$1,000+ ITEM DONORS
ADESA
Alaska Highway News
Allwest Insurance
Applewood Auto
AutoTrader.ca
BC Honda Dealers Advertising Association
Bell Media
Big White Ski Resort
Blackpress Media
Bunzl Cleaning & Hygiene
Canada's First Nations Radio
CARFAX Canada
Carter Auto Group
Castanet Media
Coast Mountain GM
Dilawri Mercedes Benz
Dueck Auto Group
Expand Furniture
Fairmont Whistler
Ferrari Maserati of Vancouver
Harris Auto Group
Honda Power Equipment Canada
HUB International Insurance Brokers
ITS Building Maintenance
Jack Carter Northstar GM
Lake Louise Inn
Lordco Auto Parts
Michael Mason Co Ltd.
Mountainview Harley Davidson
Pacific Coastal Airlines
Pacific Toyota Dealers
Parq Vancouver
Pattison Media
Pattison Media - Island Radio Division
Signature Mazda
Spirit Ridge Lake Resort
Sun Peaks Grand Hotel
The Daily Courier
The Okanagan Golf Club
The Province
Times Colonist
Vancouver Sun
Victoria Marriot Inner Harbour
Vista Radio Ltd.
Wagonmaster | BG Products
Wheaton Precious Metals
MEDIA SPONSORS 
CFNR Network
The Province 
Vancouver Sun