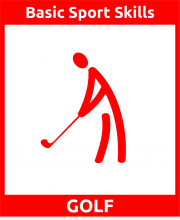 By mastering the core skills of their sport, athletes will increase their motivation, confidence, and physical abilities. This means that you will have the skills required to work towards your goals, succeed in competitions, and feel comfortable participating in your sport wherever you go.

These skills will also allow you to feel comfortable while participating in physical activities for life. However, for you to continue to progress to higher skill levels, you need to keep practicing. So Special Olympics BC coaches and Sport Consultant Jacques Thibault have developed these tools to help you!

Read the PDF below to gain an understanding of key terms and principles of your sport, as well as learn about different exercises and routines to help you practice.
The videos below will show you the correct form and techniques to use when playing your sport. 
Padraig Harrington's Tips for Training at Home
Special Olympics Global Ambassador Padraig Harrington made a series of videos about tools that you can use to better train for golf at home. He covers topics from managing short game, to perfecting a mental routine, to knowing when to chip versus putt. 
Teeing the Ball
Swing
Shot Accuracy
Home Putting
Click here to go back to the Basic Sport Skills home page.