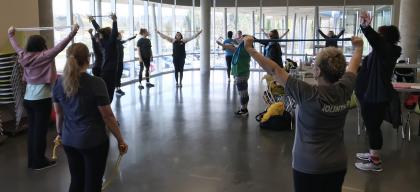 Special Olympics BC's Coach Development Workshops and online webinars are opportunities for our valued coaches to focus on learning, networking, and sharing ideas with one another.
Participating coaches gain tips on training sport-specific fundamental skills, mentoring from longtime coaches, opportunities to discuss program-specific needs, resources to support athlete health, and much more! Coaches increase the reach of the program by sharing the empowering education with the athletes and fellow coaches in their communities. 
These workshops are not just for high-performance instructors. Coaches from all different levels and backgrounds are encouraged to attend! The goal of the program is to empower the broadest possible range of coaches and, in turn, all of their athletes.
Upcoming workshops
In the 2022-23 season, SOBC is hosting both in-person Coach Development Workshops and virtual Coach Development Webinars. To see all upcoming events, click into the event calendar below and use the "Filter by Type" Coach Education selection!
Resources
Please visit our Resources section for more tools to support coaching. Many videos and program tips are developed through Coach Development Workshops and the Performance Program, and all of those are regularly uploaded into the sport-specific sections of the Sport Rules, Resources, and Videos hub, in order to ensure all coaches can benefit. Check back for updates as there will be more to come!
Coach Development Workshop and Webinar Recordings
Non-sport specific
Basic Skill Acquisition Tools
Through his work with Special Olympics BC and Coach Development Workshops, sport performance expert Jacques Thibault has created a skill package for every SOBC sport. These packages outline the basic skills that each athlete should be able to do as a foundation for their sport. The packages are valuable for coaches because they contain tips for coaching skill progression, assessment checklists, and lesson planning tools.
The Basic Skill Acquisition packages for all 18 SOBC sports can be found here and on each sport page in the Sport Rules, Resources, and Videos hub.
These packages identify the fundamental skills that an athlete should have to participate with confidence and ability in their chosen sport. Having these skills will allow athletes not only to succeed in Special Olympics programs and competitions, but also feel confident that they can go into generic sport settings and be active and successful there too.
Thanks to Jacques for creating and sharing these valuable resources, and thanks to all coaches for making use of these tools to help elevate performance province-wide.
Contact
Christina Shearer, SOBC Sport & Coach Development Coordinator
Tel 604-785-9038
Email cshearer@specialolympics.bc.ca
Participation
Based on the number of coaches interested in attending in-person Coach Development Workshops, we know this is a highly successful program. SOBC advertises Coach Development Workshops and Webinars around the province. We cannot guarantee that every coach will be able to attend every in-person workshop, but we hope to involve as many coaches as possible from across the province. 
These workshops come at no cost to a coach's Local; SOBC covers all associated costs with attending. 
Stories
Coach Development Workshop coverage
Background
In 2012, Special Olympics BC introduced the Performance Program. The concept of the program was to provide SOBC coaches and athletes with sport-specific training that would elevate the performance of SOBC athletes. The program was very successful, helping many coaches and athletes reach their potential. Based on feedback from coaches and the SOBC community, it was determined that SOBC could create greater value for all coaches and athletes by focusing on hosting sport-specific coaching workshops that are solely for coaches. In 2019, the Performance Program became Coach Development Workshops.