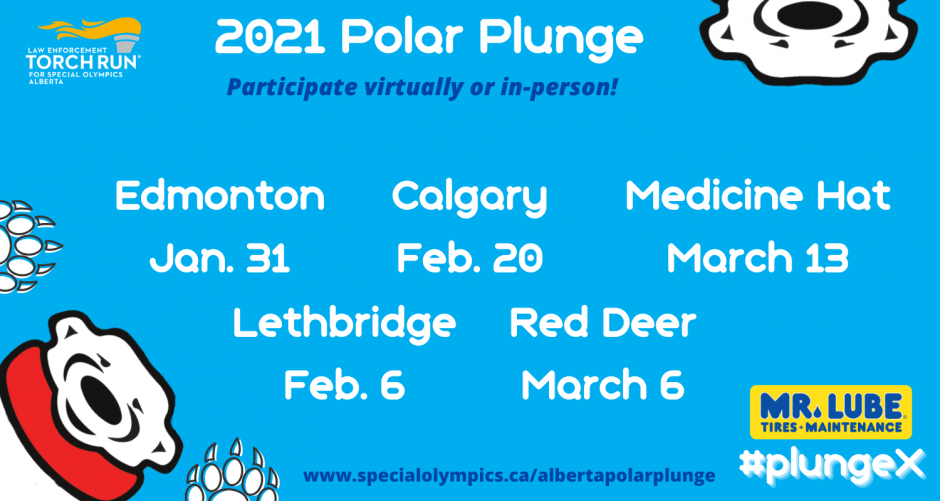 Wait...
What?
An in-person event?
You've got that right!  
Polar Plunge is coming at you LIVE and IRL in 2021!  
You can once again take the Plunge into Alberta's icy lakes in support of Special Olympics Alberta! The Polar Plunge, presented by the Law Enforcement Torch Run, challenges ANYONE to bravely jump into Alberta's frozen lake waters while helping 140 communities across Alberta. It's a great way for everyone - individuals, organizations, and teams - to get involved in support of Special Olympics and show winter who's boss.  
SAFETY First
Safety has always been our highest priority with these events, and this year is no different. Before deciding whether we'd go ahead this year, our Organizing Committees put together a COVID-19 Safety Plan, which was then submitted to and approved by Alberta Health Services, our Provincial LETR Executive Committee, and our Provincial LETR Operations Committee. No surprise here – if regulations change with AHS, we'll be pivoting to a "virtual only" event. No fear though, as that just means we can all participate from the comfort of our homes in our pjs! 
PLUNGE OPTIONS 
Because we don't know what the future holds, we're excited to be adding a virtual plunge option. This will not only provide an option for those isolating, but will also expand the reach of our event to all corners of the province. While virtual events are plentiful these days, we have no doubt that the creativity will be flowing for those that choose to participate in the Polar Plunge virtually. 
With all these possibilities, we're excited to set our participant goal at 500 Polar Plungers for 2021! 
2021 Event Locations: 

Or
What's In It For Me?
All the same awesome stuff you've grown to know and love at past events will still be present at the in-person events, just a little jacked up with sanitizer and face masks. Again, safety first! What this means is that we'll still have warm registration tents, warm change tents, divers in the water for your comfort and safety, and then complimentary hot chocolate after the plunge. We'll have more but smaller waves, and team sizes will also be smaller (max of 8 people per team) with only one spectator per plunger permitted to attend. These restrictions are in place to ensure we comply with AHS regulations, which is alright by us! The only thing we've had to sadly remove for 2021 is the hot tubs.
REGISTRATION 
We're very excited that all five plunge locations are on board again this year (special shout out to all our folks in Medicine Hat who didn't get to Plunge last year!). But, with the addition of the Virtual Plunge option this year, you can now participate from anywhere! Whether you're plunging in-person or virtually, we're so excited to have you join us! As always, creativity is highly encouraged, whether via costumes or virtual plunge ideas!  
COST
Registration fees are set at $50, which means you will get your first incentive - a super awesome polar bear face mask - with your registration. 
Plungers can raise additional funds, earning them extra incentives along the way. You can raise funds in person, online, or a combination of both. Your pledge money and forms can be submitted on the day of the plunge during registration. Details about submission and registration will be posted on your event page. 
A charitable donation receipt will be issued by Special Olympics Alberta for all cash and cheque all donations over $25 where donors have completed their contact information in full.
INCENTIVES
We have some awesome incentives in recognition of your fundraising efforts. Earn extra incentives along the way when you raise more funds! 
Individual plungers who raise funds will have a chance at the following incentives: 
$50 Registration Fee — Polar Plunge face mask 
$250 — All of the above and a 2021 Polar Plunge towel 
$750 — All of the above and a 2021 Polar Plunge plush bath robe
BRRING IT ON 
Are you the competitive type? We will be giving out awards at our Alberta Association of Chiefs of Police Awards and Recognition banquet for those who find themselves at the top of one of these fundraising categories: 
• Top plunger in Alberta 
• Top law enforcement member 
• Top athlete plunger 
• Top team in Alberta 
• Top law enforcement team 
• Top university team 
*Please note for virtual plunge video submissions: Your video submission will be shared to the Polar Plunge and Special Olympics Alberta social media pages and may be used for Sponsor Recognition posts by adding sponsor logo prior to sharing. 
Resources