Learn to Coach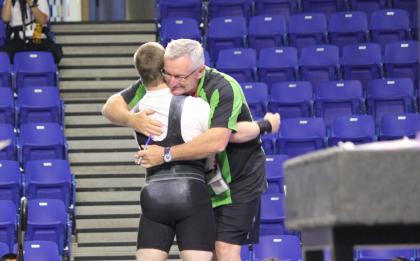 Becoming a coach with Special Olympics has many rewards. Along the way, we are always here to help. Our training programs are designed to ensure that you are able to meet the needs of any athlete involved in our organization with both confidence and skill.
Special Olympics sees our volunteers coaching in two main areas; those that are preparing athletes for Provincial, National and World Games, and those who will work with athletes in their community who wish to be active for life. For this reason, we provide coach education that focuses on reaching the potential of both athletes and coaches in these two sporting areas.
To receive sport technical knowledge, a Special Olympics coach must also participate in the sport-specific workshop. These workshops provide the necessary knowledge in order to coach the technical aspects of the sport. Special Olympics Canada does not run workshops pertaining to the technical aspects of Special Olympics sports. This is accomplished through our partnerships with national sport organizations (NSOs) and provincial/territorial sport organizations (P/TSOs).
Training Requirements
Youth Head Coach
Special Olympics Canada Coaching Young Athletes Workshop
NCCP Multi-Sport Fundamentals Movement Skills
Community Sport Coach
Special Olympics Canada Community Coach Workshop
Making Ethical Decisions Online Evaluation
Competitive Sport Coach
Special Olympics Canada Competition Sport Coach Workshop
Making Ethical Decisions Online Evaluation
NCCP Minimum Sport Specific Technical Training or Coaching Hours (for National / International Games)
Upcoming Coach Education Opportunities
When: April 19 - April 20, 2017
Early bird Registration Due: March 3, 2017
Event Location: World Trade and Convention Centre; 1800 Argyle Street, Halifax, NS   
"Coaching with an Edge" captures the energy and expertise encompassed by a terrific line-up of coaching, sport leadership, and mental training professionals.
This year's key-note speakers include:
Jason Devos (Director of Development – Canada Soccer)
Melody Davidson (General Manager – National Women's Hockey Team Programs)
Dr. Wade Gilbert (Editor in Chief – International Sport Coaching Journal).
A link to the conference schedule is here: https://thelocker.coach.ca/event/registration/1496. Please Contact Matthew McNally to register as there is a group rate secured for our membership.
Special Olympics PEI will cover costs for Volunteer Members to attend
Looking for more information?
Please contact us today with any questions you have on your coach education pathway!