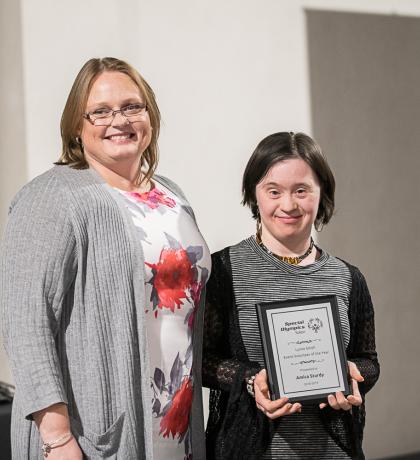 It is with immense sadness that we share the news of the passing of Special Olympics Yukon (SOY) superfan and board member, Amica Sturdy.
Amica's passion and commitment for Special Olympics Yukon began in 2010 as part of her work with Whitehorse Home Hardware. Seeing that Home Hardware had a long standing partnership with Special Olympics Canada, she approached SOY to enhance the relationship between the Whitehorse store and our Yukon chapter. Garage Sales, dinner auctions, golf tournaments, BBQ's and the awareness and fundraising events put on by the Yukon Law Enforcement Torch Run are just a few of the things she was involved with.
When asked to join the board, Amica said she was so honored to be considered and was truly humbled by the opportunity to support our athletes in participating in the sports they love. Her contributions and input was always well received and respected as was her support of the SOY staff. She served on the board from 2013 until she passed.
Aside from her role in the governance of our organization, Amica will be remembered best for the sincere connection she had with our athletes.
Coffee dates with athletes, orchestrating cheer sections at local competitions and having a number of our athletes working at the Whitehorse store are just a few examples in how much she believed in our athlete's abilities, both on and off the field of play.
Amica, you will be missed by all who had the privilege of meeting you, working with you and laughing with you. May you rest well and be proud of the work you have done to pave the way for inclusion of our athletes as they continue to succeed in sport and in life.