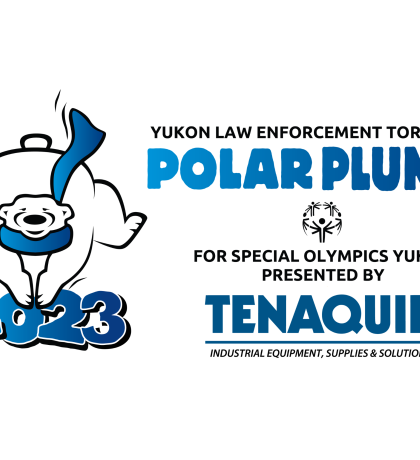 Take the Plunge for Special Olympics Yukon on Saturday December 2nd, 2023!
Get ready for the most fun you can have while jumping into cold water!
Take your Plunge into icy waters in support of the Law Enforcement Torch Run in their quest to raise funds and awareness for Special Olympics Yukon. Every dollar you raise goes towards supporting Special Olympics athletes across the territory.
The Polar Plunge challenges people to bravely jump into an icy bin filled with water from the mighty Yukon river. All the fun takes place in the parking lot of the Elks Lodge. It's a great way for everyone—individuals, organizations and businesses—to get involved in support of Special Olympics and show winter who's boss! The minimum age to plunge is 19 years old.
There are three categories of Plungers:
FROSTY FIRST TIMER (First time Plunger)
We thought it to be fitting to use the term FROSTY FIRST TIMER to identify rookie participants in Yukon's Law Enforcement Torch Run Polar Plunge. Raise at least $100 for Special Olympics athletes and you get to partake in what will go down as the coldest, most exhilarating experience of your life!
PLUNGE PROFESSIONAL (Repeat Plunger)
In the icy game of plunging, we use the term for those who have plunged at least once and want to do it again! Would you believe there are some out there who have plunged in all four editions of the event? We know...it's like being Adam Sandler, Oprah Winfrey and Sheldon Cooper all wrapped into one person. If this plunge won't be your first rodeo, solicit a minimum of $100 in pledges and you too can earn the dubious distinction of being a PLUNGE PROFESSIONAL.
Also, PLUNGE PRO'S are encouraged to FREEZE WITH A FRIEND. This consists of a PLUNGE PROFESSIONAL (repeat plunger) convincing someone to become a FROSTY FIRST TIMER (first time plunger). All PLUNGE PRO'S who FREEZE WITH A FRIEND will be entered into a draw for a fabulous prize (please see below for details).
Ever want to Plunge into a bin of cold water with your work bestie? Or secretly rejoice in watching your colleague turn into a popsicle? Join us for this exhilarating and bone-chilling event by raising a minimum of $500 for Special Olympics athletes and get ready to share the most unforgettable experience of your life with your teammates!
BOUNTY (Raise $$$ and get someone else to plunge)
Over the years, we have heard the comments "I'd sure pay money to see my boss freeze!" or "How much would it take to get uncle Joe in the bin?". Well folks we listened. If you or a group of mischievous individuals collectively raise $300, you can put a frozen bounty on someone to "walk the plank" into our limited edition Plunge Bin. Yep, it's like you're an actual pirate...but you're not. Treat a friend, family member, your boss, a dignitary...you just have to get them to "sign off" on our BOUNTY form. Just think of how good your BOUNTY will feel that they will be getting COLD FOR A CAUSE.
If you or a group wish to put a "BOUNTY" on another individual, please contact Heather Menzies at the Special Olympics Yukon Office:
EMAIL: hmenzies@specialolympicsyukon.ca
PHONE: (867) 668-6511 ext. 23
IMPORTANT INFORMATION
PLEASE NOTE ALL PLUNGERS WILL PROVIDE THEIR OWN "HANDLER". This person will be your "wingman/wingwoman/wingperson" during your participation at the event. They will be responsible for your belongings during your plunge, hand you your towel after your plunge and basically be your very own support team
Plungers are asked to arrive between 10:30am and 11:30am. This gives our volunteers the time to properly check-in all the Plungers.
The 1st Plunger enters the water at 11:30am. The Plunge order will be determined on a "first-come-first-serve" basis.
GIVEWAYS, CONTESTS AND PRIZES
Participation Gifts
ALL plungers (FROSTY FIRST TIMERS, PLUNGE PROS and BOUNTIES) will receive the 2023 edition Polar Plunge Toque for their plunge participation.
In addition, PLUNGE PROS will receive the 2023 edition Polar Plunge Towel.
All PLUNGE PROS that FREEZE A FRIEND will be registered into a draw for a $500 Home Hardware gift card sponsored in part by Whitehorse Home Hardware.
Eligibility: both the Plunge Professional and the Frosty First Timer must have raised the minimum $100 to plunge in order for the Frosty First Timer to be eligible for this draw prize. (Please note: the gift card is non-transferable and cannot be redeemed for cash.)
Fundraising Prizes (Eligibility: must raise a minimum of $1000)
1st place individual fundraising - your choice of a $500 gift certificate for use at Whitehorse Home Hardware or with Air North - Yukon's Airline
2nd place individual fundraising - your choice of a $250 gift card for use at Whitehorse Home Hardware or with Air North - Yukon's Airline
3rd place individual fundraising - your choice of a $100 gift card for use at Whitehorse Home Hardware or with Air North - Yukon's Airline
1st Place TEAM fundraising - your choice of a $200 credit at the Whitehorse restaurant of your choice.
COSTUME CONTEST
Halloween isn't he only time where it's socially appropriate to put on your favourite costume (in public). We will be presenting a special award to the plunger wearing the crowd favourite!