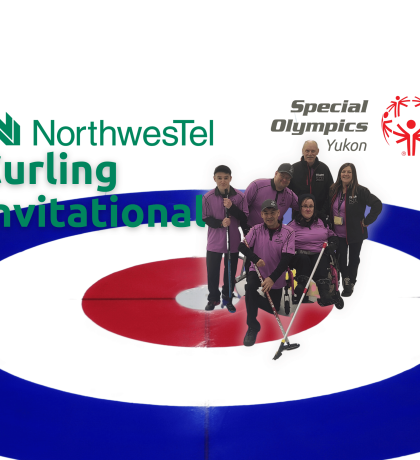 Northwestel Curling Invitational Game Schedule 2023
Come cheer on the Special Olympics Yukon Curling Team the Northwestel Chillkoot Sweepers as they face off against 3 Teams from across Canada at the Northwestel Curling Invitational!
We will have a viewing section right on the ice so you can be close for all the action! Please see the schedule below so you don't miss out on any of the action.
Saturday November 25th
Opening Ceremonies start at 10AM in the Grey Mountain Room.
11:30-1:30pm

Round 1:

Northwestel Chilkoot Sweepers vs Lunenburg Queens

2

Round 1:

Lethbridge vs Terrace Spirit Bears

3
3:00-5:00pm

Round 2:

Terrace Spirit Bears vs. Northwestel Chilkoot Sweepers

2

Round 2:

Lunenburg Queens vs. Lethbridge

3
6:45-8:45pm

Round 3:

Lethbridge vs. Northwestel Chilkoot Sweepers

2

Round 3:

Lunenburg Queens Vs. Terrace Spirit Bears

3
Sunday November 26th
10:30-12:30pm

Round 4: Semi Finals

Team 1 vs. Team 4

2

Round 4: Semi Finals

Team 2 vs. Team 3

3
2:00pm-4:00pm

Round 5: GOLD medal game

Winner of Team 1/Team 4 vs. Winner of Team 2/Team 3

3

Round 5: BRONZE medal game

Loser of Team 1/Team 4 vs. Loser of Team 2/Team 3

2