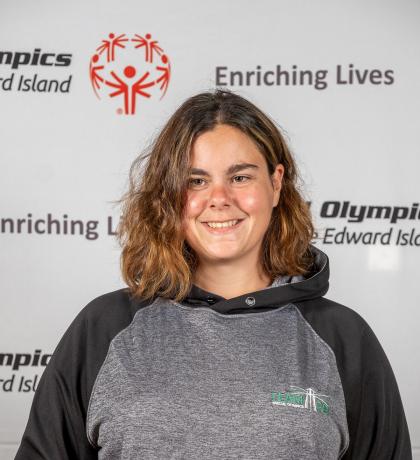 Lisa Bernard, Charlottetown, has been a Special Olympics PEI athlete for 8 years. Lisa is a multi-sport athlete, participating and competing in Softball, Floor Hockey, Bowling, Bocce and Community sport. Lisa is a member of Team PEI Floor Hockey, and will be representing PEI at the Special Olympics Canada Winter Games 2020 in Thunder Bay, Ontario.
Along with teammate Jennifer Hickox, Lisa is one of only two female athletes on Team PEI Floor Hockey. Lisa, however, is used to being the only girl on the team. Lisa competed as a member of Team PEI Softball at both the 2014 and 2018 National Summer Games, both times as the only female athlete on the team. 
SUPPORT TEAM PEI 2020!
If you would like to support Team PEI athletes like Lisa please consider Drafting an Athlete. The Team PEI Draft an Athlete program allows supporters of the movement to fund a Special Olympics athlete's journey to National Games.