FREQUENTLY ASKED QUESTIONS
What is the Portal?
The Special Olympics Canada online portal allows you to review and edit individual program, medical information, sign-up for programs and make payments. This portal is structured like many sites that use login because it is linked to one email account and is accessed by a password you create. Because of this restriction, it is important that the email address entered for the athlete is accessible and does not change frequently, as this is the email address used to login to the portal.
Why use the Portal?
Although you do not need to register for the portal in order to complete program registration, there are several advantages to creating a portal account. You will be able to review and change program registrations and athlete contact and medical information, register for programs and make payments. 
Additionally, you can use this portal login to register in future years, meaning that you will not need to complete such an extensive online or paper form in program registration each year. We strongly encourage all of our members to enrol in the portal.
How do I register for the portal?
You will be prompted to complete portal enrollment at the completion of signing up as/on behalf of an athlete or volunteer into a program enrollment. You will receive an email after your program registration is approved.
The athlete rarely uses their email address, which email should we use?
That depends on whether or not the athlete is their own guardian. If they are their own guardian and are registering themselves, they should be using their own email address and making sure they check their email for the program and organizational updates. 
If the individual is not their own guardian, register as a NEW ATHLETE, and complete the forms on behalf of that individual, so you can enter your own email address to have access to the account, as well as the athlete's email under their own information, which will allow for two separate logins.
I do not have an email address, can I still use the online registration system? 
Unfortunately, no. In order to create an account on the Portal, you must have an email address. You can print out and complete a paper form and contacting your local SO community and follow the paper registration process.
I am registering on behalf of an athlete, why are they asking for my birthdate? 
The portal requires 4 standard fields to be completed for each individual that registers. Those fields are first name, last name, email address, and birthdate. With this information, they will create your own account so you can log in and access the athlete's profile that you are registering.
I am a returning athlete/volunteer, but the system is not able to find me. What information do I enter? 
Try entering your full name, instead of the name you may go by.
Birth Date should be entered in as MM/DD/YYYY – Check to see if the month and day may be reversed.
Make sure that you are using the email that you submitted to Special Olympics in the past. If your email has changed and you no longer have access to that account, contact your SO community or contact Jaret Dezotell at the provincial Office by email at jdezotell@specialolympics.sk.ca or by phone to 306 780-9450.
I am a caregiver looking after multiple athletes. Can I use my email address to create an account to register each athlete?
You can only use an email address once to create an account. Contact the provincial office to set yourself up with an account to access more than one athlete.
I am a guardian/parent/caregiver who volunteers and is wanting to register a/an athlete(s) under the same email address. What do I do?
Please call the office before signing up for registration if you plan on registering more than one person (athlete or volunteer) under one email address.
What Region/District/Community should I be registering in?
The list below shows which SO communities are within each Region/District:
 
Southeast Connection – District 1
SO Estevan
SO Weyburn
Regina – District 2
SO Regina
Southwest – District 3
SO Moose Jaw
SO Swift Current
Prairie Valley – District 4
SO Yorkton
Prairie Central – District 5
SO Humboldt
Saskatoon – District 6
SO Saskatoon
Rivers West – District 7
SO Battlefords
SO Kindersley
SO Meadow Lake
SO Unity
Lakeland – District 8
SO Melfort
SO Nipawin
SO Prince Albert
Northern – District 9
SO La Ronge 
Why can't I find any programs on the Program Search Criteria page?
Registration may not be available for your community if you are searching before September 1st or if the program has been requested not to be open for online registration, due to COVID-19.
There may be too many fields filled out – Only put in the Chapter, Region, and Community to maximize your search results:
Chapter/Province/Territory: SO Saskatchewan
Region: *District that you belong to (Ex: District 1 – Estevan/Weyburn (Southeast Connection) Community: Weyburn
*DO NOT ENTER THE POSTAL CODE, DISTANCE, or DAY OF THE WEEK!
How do I register for more than one program?
Unfortunately, you can only select one program at a time. We understand it isn't the most convenient option, but the system is still developing at the moment, and once you complete your information and submit your program enrollment, a button will appear if you would like to add another enrollment.
How do I pay for my programs? Are programs free because it says $0.00?
Unfortunately not. We are not offering online payments at this time, which is why the system shows the enrollment fees to be set at $0.00. Each SO Community has its own respective fees that they charge for the yearly programming. Contact your local SO community for more information.
How do I find my way through the portal? 
You can understand how to navigate through the portal as an athlete, volunteer, or other members here:
Navigating Your Portal Account
Caregiver/Guardian who is connected to a registered athlete? 
Here is how you manage them in the portal
You must contact the office to be given portal access to another individual. Once you have been confirmed to receive access, you must create a portal account with your own credentials, by filling in your own information under PORTAL USER REGISTRATION. Once you click on the link you received in your email, proceed to log in. When you log in, you will see the following landing page: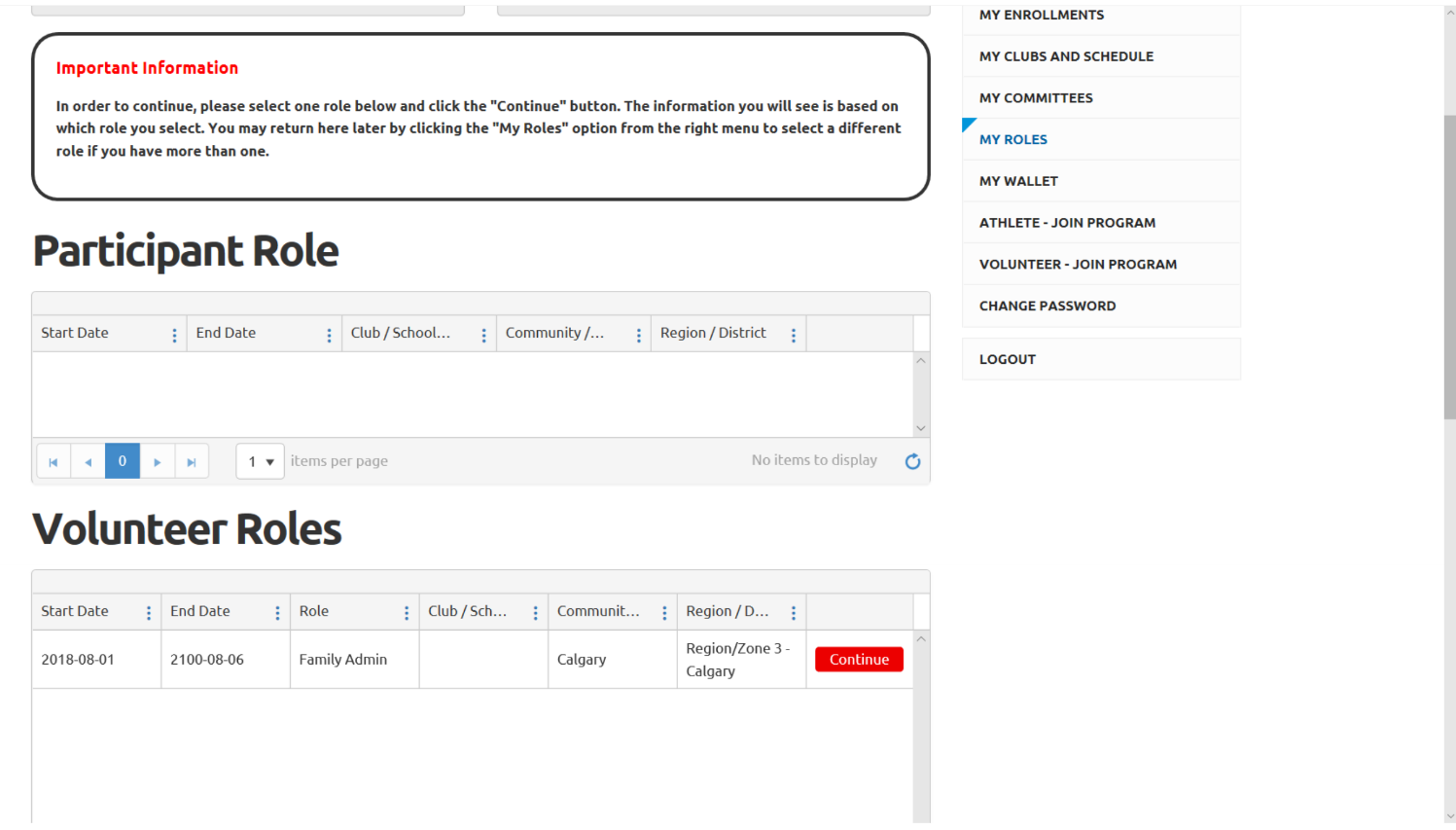 Scroll down to Volunteer Roles, and you should see Family Admin as one of your options. Press the red continue button.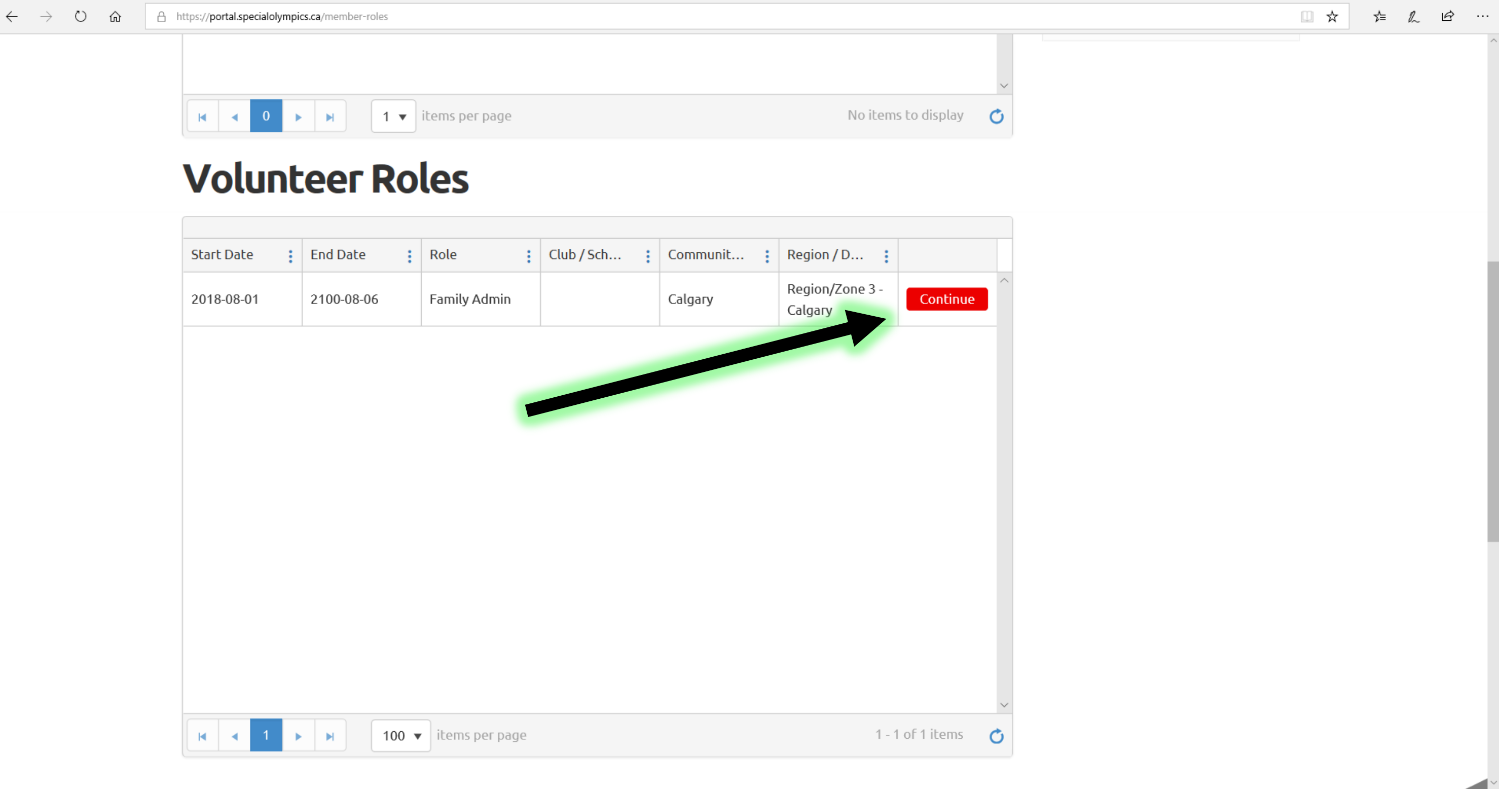 Once the page reloads, you should have a larger menu on the right-hand side. The first part of the options is for YOU. If you click on Athlete-Join Program you will be signing yourself up as an athlete. If you click on Volunteer-Join Program, you will be signing yourself up as a volunteer. Use the second part of the menu to view and manage the athlete(s) profile.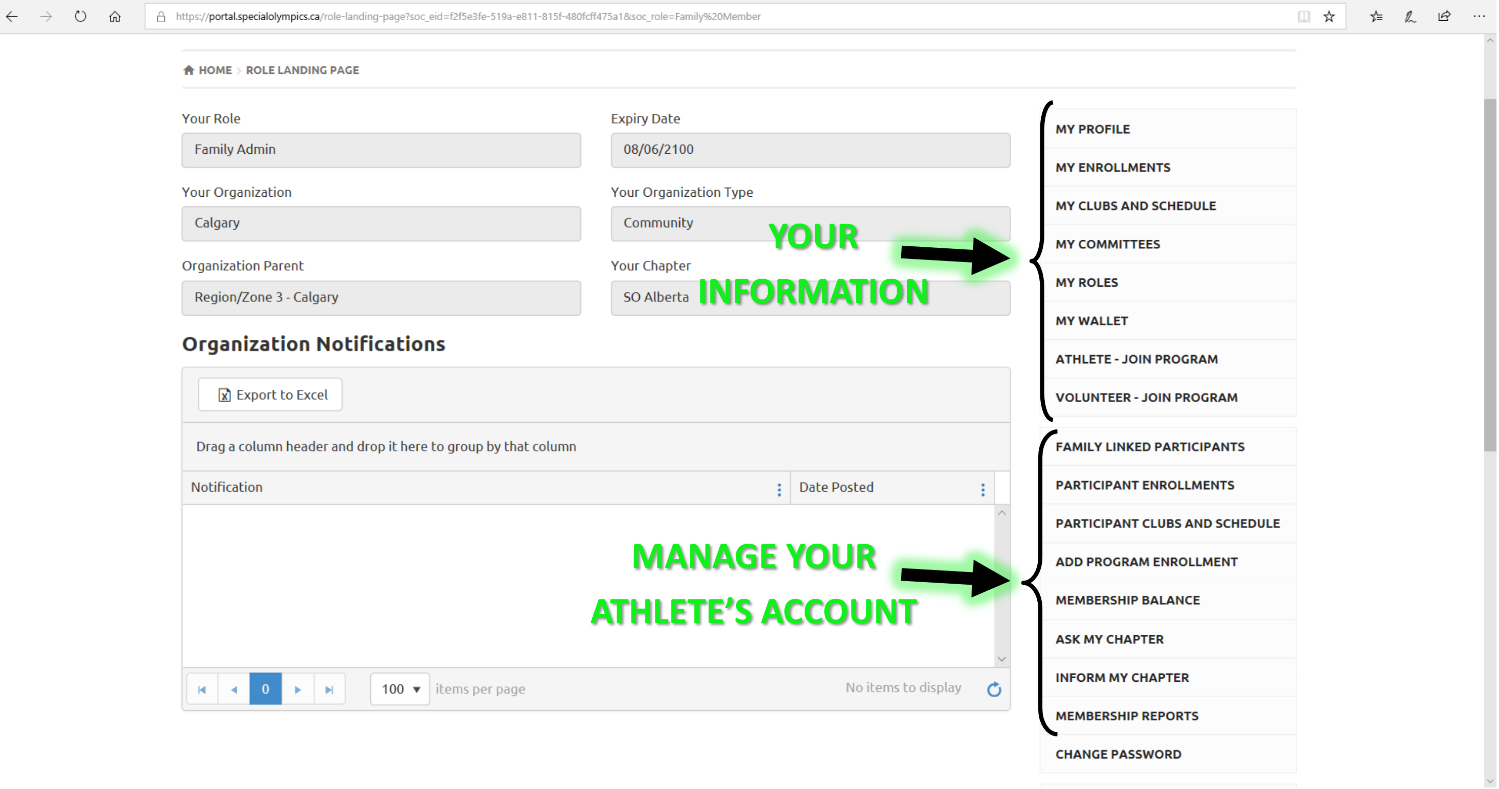 Three main buttons you will most commonly use are the following: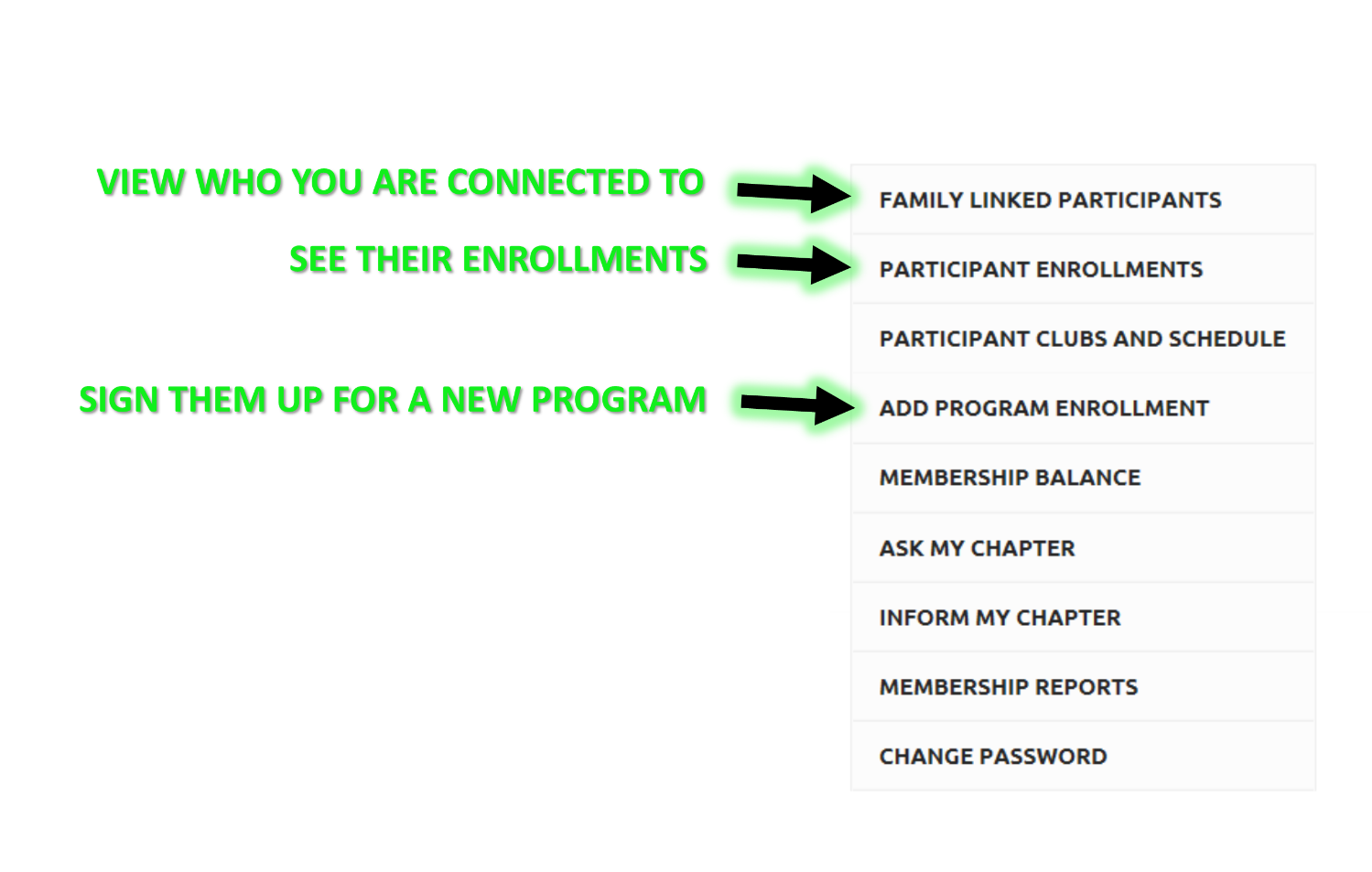 To update the athlete's information click on FAMILY LINKED PARTICIPANTS, and then on the square with the pencil in it by their name, to view and edit their profile information.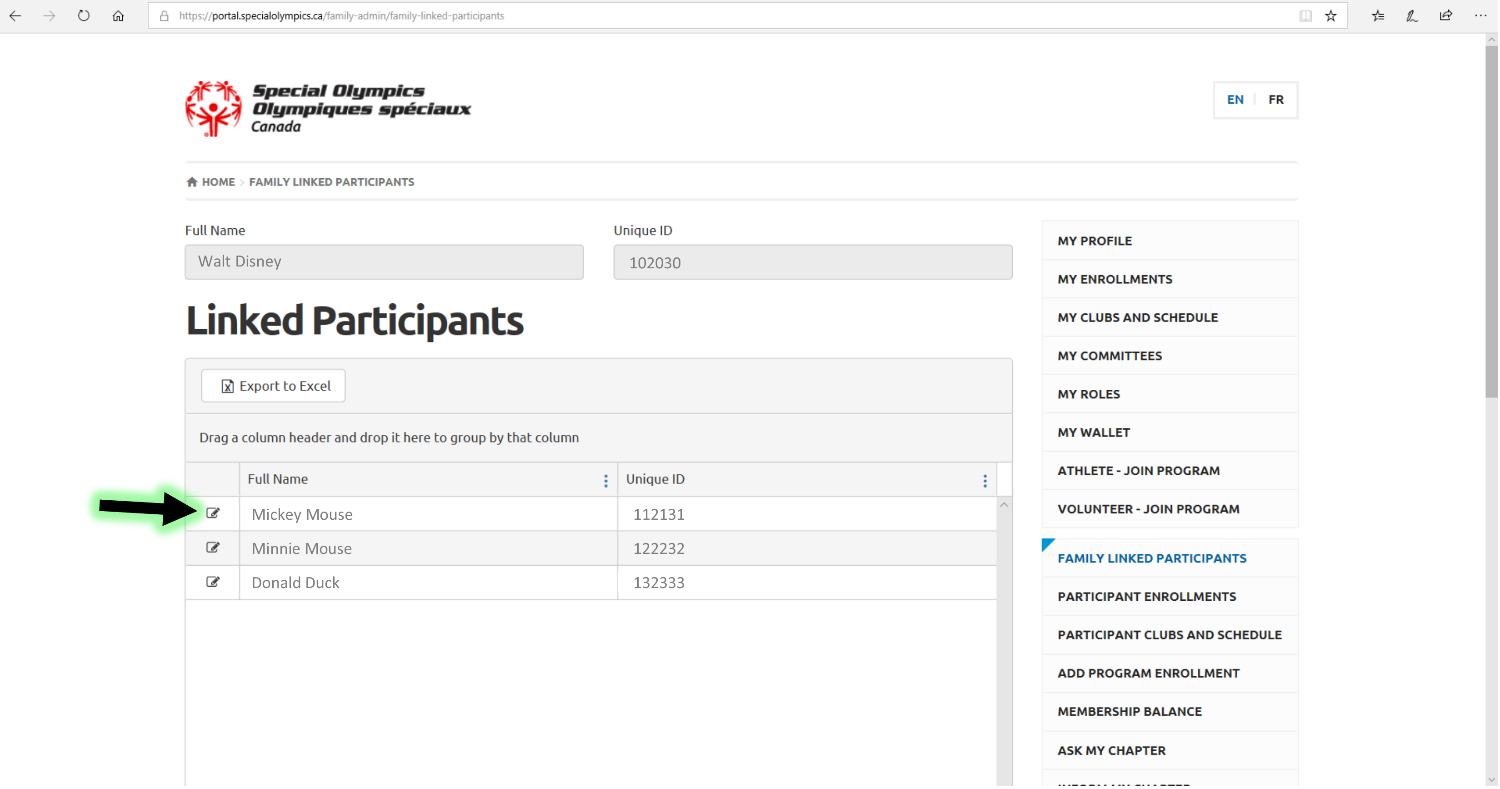 Make sure to click submit on the bottom to save any changes.