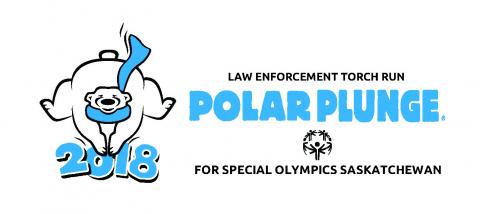 DATE: Wednesday, February 14, 2018
LOCATION: City Square Plaza, Regina
CHECK IN: 10:30 am
START TIME: 11:30 am
FEE: $100 Registration Fee per person, waived if you raise $100 in pledges – every entry receives a plunge towel
REGISTRATION NIGHT: February 13, 2018, from 7:00 pm - 9:00 pm Famoso, 1881 Scarth St, Hill Centre Tower II, Regina
Are you brr-ave enough? Join Law Enforcement officers and the brr-ave citizens of Regina and take the plunge in support of Special Olympics Saskatchewan and its over 1200 Special Olympics Athletes!
How to participate in the Polar Plunge in 5 easy steps:
   1. Sign up online at the above link and pay your $100 registration fee (you can raise this in pledges too!)
   2. Collect pledges from friends, family, and coworkers - remember the more money you raise the more incentives you receive
   3. Read our tips for a fun, successful plunge 
   4. Pick your costume, including shoes (for safety reasons, footwear is mandatory for all plunge participants) 
   5. Show up, think warm thoughts and try not to chicken out
Participants must be 18 years of age or have the written consent of their legal parent or guardian.
Can't make it? Don't fret - there is always the opportunity to plunge in Moose Jaw on February 24th OR you can support other plungers in their quest to raise money for SOS!
Too Chicken to Plunge Raffle
Chicken? Don't worry - we've got you covered! You can stay warm and dry and still show your support for Special Olympics Saskatchewan with our Too Chicken to Plunge Raffle.
Purchase a numbered rubber chicken and have it do the plunging for you. Following the human plungers, all purchased chickens will be released into the water. Chickens will be rescued at random and if your ticket number matches the number on the chicken you could win some great prizes. 
For more information on the Too Chicken to Plunge Raffle please contact Roxanne at LETRSK.Regina@gmail.com or 305-502-5052.