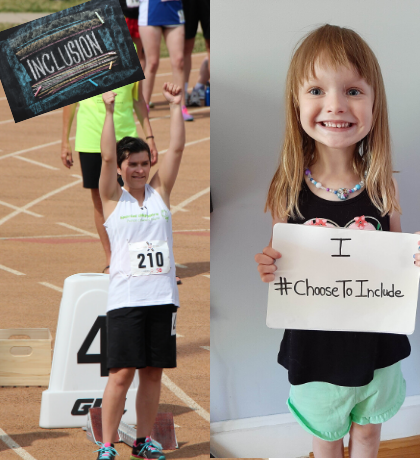 Global Week of Inclusion is from Monday, July 20th - Sunday, July 26th.
We are asking that you become a Champion of Inclusion and the Special Olympics movement and celebrating someone in your life that everyday makes the choice to include. Join us on our social media channels all week to see our faces of Inclusion and add your own photo and story, we would love to share it!
When young Ava Burke was asked to have the photo taken, she was beyond thrilled. Her second cousin Teri Cudmore is a Special Olympics PEI athlete and Ava has seen the impact that inclusion has had for her cousin. The medals she has proudly shown off throughout her years of involvement with SOPEI.
Do you #ChooseToInclude?
Canadians with an intellectual disability (ID) have known the pain of isolation and exclusion long before the COVID-19 pandemic hit.
Many children, youth and adults with an ID get left out – on the playground, of the workforce, the conversation. Together, we have the power to change this when we Choose To Include.
Follow these three easy steps to show us you Choose To Include:
Take a photo of yourself (on your own, or with friends/family, if safe to do so) holding a sign that reads "I #ChooseToInclude" (Keep the sign simple – or get creative!)
Post the photo (make sure the sign, message and your face are visible) to social media with #ChooseToInclude & @SpecialOCanada @SpecialOPEI
Tag at least one friend encouraging them to #ChooseToInclude with you.
If you follow the above three steps, not only will you be a Champion of Inclusion, but you'll also be entered to win a $50 or $100 TimCard!
Winners will be announced the week of July 27, 2020.

CHAMPIONS OF INCLUSION!
In honour of Global Week of Inclusion, we're celebrating homegrown Champions of Inclusion: Canadians and Islanders leading the charge for respecting and embracing all abilities – not just in sports, but in the workforce, in schools, everywhere!
These Champions of Inclusion (who were nominated by the public) #ChooseToInclude every day of the year, helping to build a more joyful, accepting and welcoming world.
Stay tuned for our first SOC Champion of Inclusion story Monday July 20...
#CHOOSETOINCLUDE