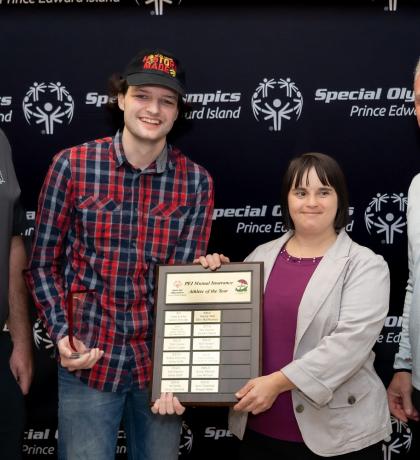 Earlier this week Special Olympics PEI hosted our Annual Awards. Together we celebrated another successful year of enriching the lives of Islanders with an intellectual disability through sport.
2021 - 2022 Award Winners & Citations:
Department of Health and Wellness Sport Volunteer Award: George & Jackie Charchuk (Alberton)
The Department of Health and Wellness Sport Volunteer of the Year award is presented annually to a Special Olympics PEI sport volunteer who through their commitment to enriching the lives of Islanders with an intellectual disability through sport, has made a difference in their community.
George and Jackie Charchuk, who stepped up to the plate a few years ago when Alberton bocce needed volunteer leaders. They were willing to take the program over and keep it running. Both are a great team. They are very encouraging and organized. When one team is behind, they say, "it's time to pull your socks up." They encourage the Athletes to do their best and show and help them how to play the game.
Dr. Frank Hayden Award: Angie Phillips (Hampshire)
This award is named in honor of Dr. Frank Hayden, who in the early sixties began searching for ways to establish a national sport program for individuals with an intellectual disability. His research eventually led to the development of the Special Olympics movement.
This award is presented annually to a Special Olympics PEI athlete who has shown commitment to training and the determination to succeed at the grass-roots level.
Angie Phillips has been involved in 5-Pin Bowling and the Wellness Champions programs for over five years and has a highly charming personality that makes everyone around her feel appreciated and welcome. Angie is a hard worker, attending most training and competition opportunities. She is very supportive of others and can be seen cheering on friends, teammates, and even some opponents! Angie loves attending social gatherings and having fun with her friends and family.
Chris MacPherson Spirit Award presented by ADL: Brandon Younker (Milton Station)
The Chris MacPherson Spirt Award presented by ADL is presented annually to a Special Olympics PEI athlete who brings out the best in their self, fellow athletes and coaches through commitment, determination and humour.
Brandon Younker has been involved with Special Olympics for nine years now. His summer sports are softball and soccer, while his winter sports are floor hockey and bowling. He has more confidence in himself and tries his best at whatever sport he plays. He is always ready well before the start time in excitement to participate. He always gives a total effort and can be seen cheering on everybody else. Even if he lost, that was fine. He always smiles, laughs, and talks to everyone else; he never gives up!
President's Award: motionball PEI
The President's Award acknowledges volunteers who have made a significant contribution to the Special Olympics movement locally, provincially and or nationally and has best exemplified the spirit, philosophy, and goals of Special Olympics PEI.
motionball is a national non-profit that empowers young Canadians to be leaders in their communities, raising funds and awareness for Special Olympics through social and sporting events. motionball believes that the next generation of Canadians, today's students and young professionals, are the future of the Special Olympics movement – with the power to make a meaningful difference for generations to come. 2022 marks the 6th anniversary of events in PEI, and we have received over $175,000.00 from the group, which has stayed here to support opportunities for all ages and ability levels.
Facility of the Year: Belvedere Golf Club (Charlottetown)
The Facility of the Year is presented annually to a facility which opens their doors and hearts to allow Special Olympics PEI programs to call their facility home.
The Belvedere Golf Club, with support from General Manager Jeff Affleck, began SOPEI's most recent partnership in 2020, and the Golf program has since grown to max capacity in a few short years. The course has a rich history and unique character spanning over 100 years. They share a desire to grow the game for all ages and abilities. The Special Olympics group focuses on skill development and rotates from the driving range, putting green and practice hole. The club has been very welcoming, offering technical support and anything our group needs to feel at home. We truly feel like members of Belvedere each week and are encouraged about the program's future growth.
David Andrew Memorial Award: Evelyn MacLure (Charlottetown)
This award was developed in memory of David Andrew, member who passed away in 2002, to honor some under recognized heroes within Special Olympics PEI; parents/guardians/caregivers. David Andrew was a shining example of many of our parents and guardians involved in Special Olympics PEI. He was always in the background, supporting his son Scott with all of his endeavors, helping with fund-raising and most of all, cheering his son on from the sidelines.
Special Olympics PEI makes this award available for annual presentation to a Parent/Guardian/Caregiver who has made a significant contribution to the Special Olympics movement locally and/or provincially, and has best exemplified the spirit, philosophy and goals of Special Olympics PEI.
Evelyn MacLure volunteers with several community organizations, including the Canadian Cancer Society, Special Olympics, and Tremploy. She can also be seen making early morning visits in all kinds of weather to Charlottetown Coffee shops to pick up donated baked goods for the Salvation Army, for which she has volunteered with for over 45 years. Her support for her daughter and son-in-law goes above and beyond. She provides her time at weekly programs, engages online when required, and participates in local fundraising efforts. SOPEI is fortunate to have her dedicating time to enriching the lives of so many athletes and supporting her family in their achievements.
Maritime Electric Coaches of the Year Awards (2): Troy Livingstone (Charlottetown) & Debbie Metcalfe (York)
The Maritime Electric Coaches of the Year awards are presented annually to two of Special Olympics PEI's most outstanding coaches who through, their commitment to coaching, helped athletes reach their athletic pursuits.
Troy Livingstone: Troy has been involved with SOPEI for a couple of years and was named to the coaching team for PEI's first provincial basketball team, representing PEI at Nova Scotia's Summer Games. The PEI basketball team had tremendous success, winning gold in the top-tier division at Summer Games. Troy's knowledge of his athletes and the game of basketball was a key contributing factor to this success. Troy is also one of the program leaders of the Charlottetown basketball program. Troy cares tremendously for his athletes' skill development and overall well-being. He can be found encouraging his players to do their best and offering game plans. Troy is very open to how sport has positively impacted his personal life. He wants the same for his athletes.
Debbie Metcalfe: Debbie has been involved with SOPEI for over 20 years and recently was head coach of Team PEI swimming at the 2022 SONS Summer Provincial Games. Debbie has taken her swim teams with great success to Provincials and Local meets for many years, and they have all done well personally and as a team. All of the athletes love her and her approach to coaching. Debbie has lots of patience and is very consistent with her approach. She is very encouraging and empowers athletes to become more independent and successful in their personal lives.
PEI Mutual Insurance Company Athletes of the Year Awards (2): Janet Charchuk (Alberton) & Keegan Waite (Summerside)
The PEI Mutual Insurance Athletes of the Year awards are presented annually to two Special Olympics PEI athletes for the most outstanding athletic performance at a Provincial, National or International Competition.
Janet Charchuk: Janet has been involved with Special Olympics for 24 years and has represented PEI at two National Games and one World Games. She most recently dominated her division at the 2022 SOPEI Bocce Open and took home Gold! Janet is an active member of the Athlete Leadership Academy. One of Janet's goals for the Athlete Leadership program is to encourage her fellow athletes to get involved and to have a voice. Janet is also an active member of her community and has been involved with many National and Multi-national advocacy groups.
Keegan Waite: Keegan has been a member for seven years in floor hockey and basketball programs. Keegan was a key piece to the basketball team's success at the 2022 SONS Summer Provincial Games and has recently learned of his selection to Team Canada's training squad for World Games in Berlin. He is a team player and is always helping his teammates improve their game. Keegan is usually the last athlete to leave the gym and constantly seeks input on improving his game outside of the program. Keegan loves sports and demonstrates great sportsmanship when competing. Keegan is an aggressive player who can play any position on the basketball court and loves to get creative. He is also the first to give a teammate a high five and offer words of encouragement. Players from opposite teams can often be found chatting with Keegan after games.
Volunteer Pins
Volunteer Pins were presented to those who have contributed 5, 15, 20 and 25 years of service. 5-Year Pins were presented to: Gie Rodgers, Aimee Webster, Kieran Goodwin, Nancy MacPhee, Tracey Demeulenaere, and Donna Maloney. A 15-Year Pin was presented to: Estelle Smith. 20-Year Gifts were presented to: Rickey Burns, Carole-Ann French and Dave Morrow. A 25-Year Gift was presented to Janet Bradshaw.
LETR Member of the Year Award
The Law Enforcement Torch Run presented the LETR Member of the Year Award to Forest Spencer:
Forrest Spencer has been an invaluable member of the PEI LETR since 2018 and was involved with LETR prior to moving to PEI. In his short time with our committee and in his role as Executive Director with the Atlantic Police Academy, Forrest has enabled the partnership with the APA to grow. By inviting the PEI LETR to annually present each January to the incoming Police Services squad, allowing new cadets to experience the mission and values of both the Law Enforcement Torch Run and Special Olympics movements. Having this connection early on in their career with athletes and the value of community engagement is immeasurable.
Forrest exemplifies true leadership by his continued commitment to the PEI LETR movement. Providing opportunities for the cadets to voluntarily participate in events, such as the April Polar Plunge in-person, while he continues to support them in an unobtrusive way with an individual hybrid plunge or joining them in the pool at pre-Covid plunges. Forrest's passion and willingness to be part of the larger SOPEI community has been evident throughout his years of service on PEI. From helping ensure that athlete, Oliver Veneman's, birthday wish was fulfilled, to co-chairing the committee to re-establish the PEI LETR Torch Run in communities across PEI in 2022.
We are honoured to recognize the significant contributions Forrest has had as part of the PEI LETR committee and present him with the 2021-2022 PEI Law Enforcement Torch Run Member of the Year Award. Congratulations!
Athlete Leadership Academy Graduates
The Special Olympics PEI Athlete Leadership Academy is an opportunity for Island athletes and volunteers to gain knowledge and experience in several modules/courses beyond sports training and competition. Athletes who explore and complete these workshops will build community and be more empowered to reach their full potential. The Leadership Academy equips athletes with the tools to undertake leadership positions within their community and the broader movement.
The following Athlete / Mentor pairs were recognized: Erin Pippy / Kristy MacKay, Paul Phillips / Myrna Phillips, Tommy MacGuigan / Dave Morrow, Cameron Gordon / Catherine MacInnis, Ellen MacNearney / Kathleen MacNearney, Janet Charchuk / Jackie Charchuk, Lisa Bernard / Judy Gallant, and Heidi Mallet / Genna Phelan.