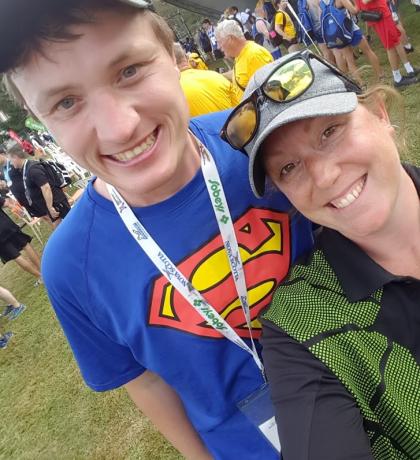 Special Olympics Prince Edward Island Executive Director Charity Sheehan is a self-described "Games junkie."
She's been involved with Special Olympics PEI for more than 20 years, first as a volunteer, then Program Director and now leads the Chapter.  She's attended countless Provincial and National Games as well as three Special Olympics World Games – soon to be four, when she serves as chef de mission for Special Olympics Team Canada 2023 at the Special Olympics World Winter Games in 2023.
"The chef position has always been on my radar," Sheehan said.
While World Games are "long days and short nights," it's an experience she loves. "Games are just so dynamic, so fun," she said. "It's where you really see the culmination of what you do in your little Chapter, in our case in PEI, on the world stage and how you're connected to the bigger movement."
Sheehan primarily sees the chef role as a support person for every team member. "What I want to accomplish out of this is to ensure everyone has the tools necessary to have a successful run – whatever that means to them," she said. "Anything they need to just grow as human beings and have a really fun journey..."
Individual and team growth – for both athletes and coaches – is her favourite part of World Games. "From when they get selected, to the World Games experience – there's such a transformation," she said.
One of her favourite Games moments was watching a snowshoe athlete come out of his shell at the Special Olympics World Winter Games Korea 2013. Throughout training camps and the lead up to competition, the athlete kept to himself, often reading a book. When they arrived in Korea, many locals wanted to take pictures with him, because – at more than six-feet tall – he was "twice their size." At first he was hesitant, but by the end of the trip he was jumping in photos and making peace signs with the locals and trading pins with athletes from across the globe. "He took that step outside his comfort zone and it wasn't as scary as he perceived it to be and because of it he had just a wonderful experience – the culture and just socially," Sheehan recalled.
Special Olympics Canada athletes will find out whether they qualify for SO Team Canada 2023 in the months following the Special Olympics Canada Winter Games Thunder Bay 2020. Sheehan's advice for those athletes is to "soak it all up." "It's such an amazing experience – and it's a scary experience for a lot of athletes – for a lot of coaches too," she said.  "Move outside of your comfort zone a little bit at a time. Don't be scared of change – it's going to occur, because it's just such a phenomenal experience. Ask for help, enjoy the journey and have a ton of fun doing it."
-30-
For media enquiries and to arrange interviews, please contact:
Charity Sheehan
Executive Director
T: 902.368.8919