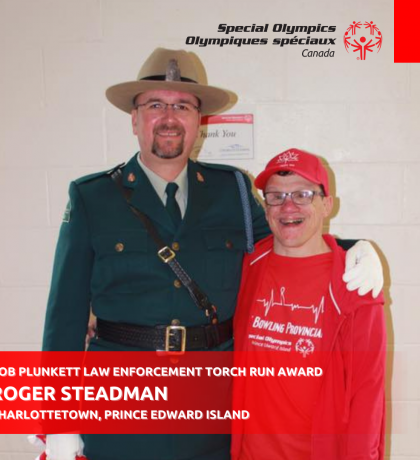 2021 marks Roger's 20th year of involvement with LETR – 12 of which he was the Chair of PEI's LETR Committee. Roger has been the driving force behind the success of Law Enforcement Torch Run initiatives in Prince Edward Island, raising awareness and funds to support the Special Olympics movement.

His leadership style focuses on building strong relationships between LETR members and athletes. He ensures new members of law enforcement are introduced to athletes, at events and through informal lunch conversations with the Atlantic Police Academy.

In addition to his fundraising efforts, he personally contributes annually by providing items for the SOPEI Enriching Lives Gala silent auction - and recently donated snowshoes to support the provincial program. Roger truly exemplifies the essence of what LETR stands for: respect, acceptance and inclusion.

Congratulations Roger!