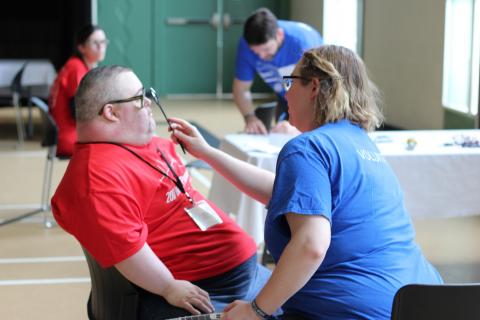 Special Olympics PEI is excited to offer athletes our third Opening Eyes screening since launching Healthy Athletes in PEI back in 2015. Special Olympics and Lions Club International have teamed up to promote quality eye care for Special Olympics athletes along with major support locally from Essilor and Safilo Group. The Opening Eyes program is run at select Special Olympics sporting events worldwide providing athletes with cost free access to their eye care needs.  
This event will take place at the Family Vision Centre in Charlottetown, PE. This will be a stand-alone event and we are asking athletes to pre-register their appointments via email/phone however we will take drop-in's depending on capacity at the time.
Volunteers are Needed!
Experience in the field, students, residents, and other medical professions are a major asset but not required for every role. If you would like to volunteer please complete our Opening Eyes Event Volunteer Form. 
Athlete Sign-up
Athletes interested in participating in this Opening Eyes screening are asked to pre-register, either by calling 902-368-8919 or emailing sopei@sopei.com. 
Healthy Athletes Overview
The Healthy Athletes initiative is dedicated to providing health services and education to Special Olympics athletes, and changing the way health systems interact with people with intellectual disabilities. Healthy Athletes is designed to help Special Olympics athletes improve their health and fitness, leading to enhanced sports experience and improved well-being.
During a Healthy Athletes event, Special Olympics athletes receive a variety of health screenings and services in a series of clinics conducted in a welcoming, fun environment. Volunteer health care professionals and students are trained to provide the screenings in an effort to educate the professional community about the health needs and abilities of persons with intellectual and developmental disabilities. The Special Olympics Healthy Athletes Initiative includes these disciplines: Fit Feet, FUNfitness, Healthy Hearing, Health Promotion, Opening Eyes®, MedFest, Strong Minds and Special Smiles®. Special Olympics Healthy Athletes continues to expand rapidly around the globe.
For more information about the event please contact Matthew McNally (mmcnaly@sopei.com) or Kristen MacDonald (kmacdonald@sopei.com).