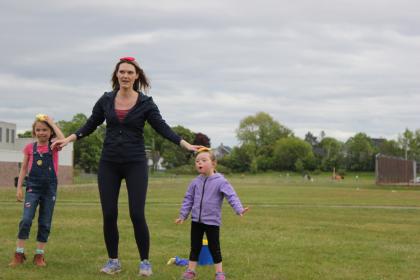 Special Olympics Prince Edward Island strives to be welcoming to all children and families who are looking for activities that are the right fit. Our programs will allow your child to connect with their peers and strengthen both their sport skills and social skills.
Special Olympics programs are designed for children, youth and adults with an intellectual disability. For information about what this means, please visit our Who Can be an Athlete page. 
Our programs involve more than just one sport or annual events: they include weekly activities, social experiences, competitions, and celebration events. There are programs designed for specific age groups and ability levels. For competitive sport events, athletes are divided in groups, a practice called Divisioning, to compete against individuals at similar levels of skill and athletic ability. This allows us to provide all participants with meaningful competition.
Special Olympics might be a great fit for your child! Ultimately, the best ways to know if Special Olympics is right for your child, is to visit one of our Youth Programs.  Come see what Special Olympics is all about, ask questions and meet other families. To schedule a program visit, or to discuss program options for your child, please contact SOPEI by calling 902-368-8919, or by emailing sopei@sopei.com.