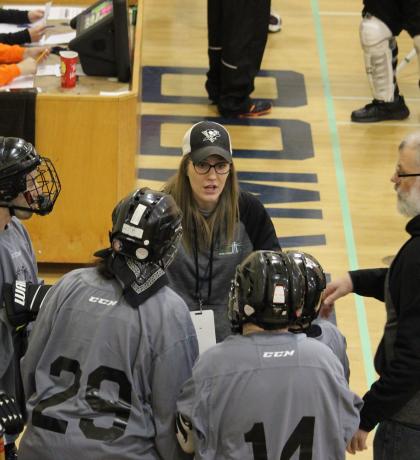 Volunteers are the backbone of our organization. Without them, we could not deliver on our promise to enrich the lives of children, youth, and adults involved in our programs.  During National Volunteer Week, April 24-30, we love to highlight a few of our incredible volunteers and volunteer coaches. 
Melissa Demy (Mel) started volunteering with Special Olympics PEI in the Fall of 2018. Mel had just moved to PEI for a nursing job at Prince County Hospital, and was looking for something to do in her spare time. Back in Barrie, Ontario Mel had worked at a day program for people with an intellectual disability. She fondly recalls playing outdoor ball hockey with her former clients as a way for them to keep their skills up during the off-season from Special Olympics floor hockey. Mel herself has a strong sport background, having played ringette when she was younger, and still playing recreational hockey now. 
When Mel arrived in PEI and was looking for ways to get involved with the community, she had Special Olympics in the back of her mind from her day program job. She looked into local programs here, and found the Summerside Floor Hockey program. Four years later, and Mel couldn't imagine not being involved! She says it's the athletes who keep her coming back. Coaching is a creative outlet, and reminds her of her time playing high level sports.  Mel is very aware that Special Olympics programs are often the highlight of their week for many athletes, and tries to match that positive spirit and energy when she walks into program each week. Mel also found inspiration from the other Floor Hockey coaches she has met along the way, including Garth Perry and Barry Murray. 
Pre-COVID, Mel had the opportunity to travel with the Summerside Floor Hockey program to a few competitions off-Island. Being competitive herself, Mel enjoyed the opportunity to witness the athletes in a more competitive environment. Even with the last large scale competition having wrapped up more then two years ago, Mel still has athletes talking about their experiences, often as the highlight of their season.  Traveling to competitions also gave Mel the opportunity to merge her profession with her role as a volunteer. Her background in nursing was very helpful, especially knowing that she could help out if / when needed. 
Sign-Up to Volunteer
If you have a few hours to give each week we would love to hear from you: Apply to Volunteer