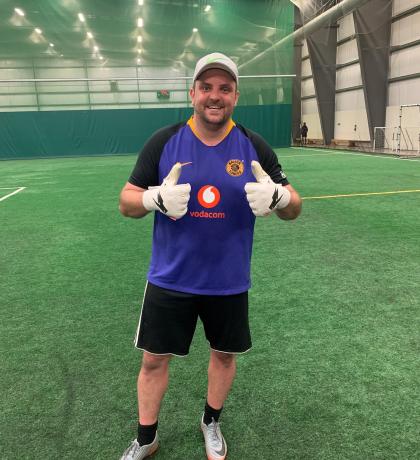 National Volunteer Week, April 24-30, is a chance for us to highlight and thank our incredible volunteers, volunteers like Kieran Goodwin. 
Kieran first volunteered with Special Olympics PEI through corporate volunteerism. He volunteered with his work to help sell Raffle tickets at the 2018 Enriching Lives Gala. As is often the case with first time volunteers, Kieran's interest was peaked.  Following his introduction to Special Olympics, Kieran talked with someone he knew who was very involved. Shortly thereafter he submitted his volunteer application, and before long Kieran was coaching the Youth Multi Sport program.  Special Olympics is often described as a sticky organization. Once volunteers are introduced to the movement, they tend to stick around for the long run. This is proving to the true with Kieran. 
Kieran is now a year round coach. From a strong sport background, Kieran played soccer growing up, and continued to play at the university level while studying at St. FX. Kieran now coaches Special Olympics Soccer in the Summer and Floor Hockey in the Winter.  The excitement the athletes bring to programs each week is Kieran's favourite part of volunteering. Seeing the lifelong friendship formed through Special Olympics is very unique. Some of the Floor Hockey athletes have been participating for over 30 years. The joy that the athletes continue to bring into the gym each week is part of why Kieran enjoys his time coaching so much. 
When asked why others should get involved, Kieran is quick to encourage others to check it out, especially if you have a few hours to spare each week. 
Looking ahead to the Summer, Kieran is excited to see the continued popularity of soccer. With the success of the Canadian Women's National Team, Kieran has seen a related growth in the number of athletes coming out to soccer. With restrictions starting to ease as well, Kieran is looking forward to things getting back to normal on the soccer field, and for the potential for future competitive opportunities for the athletes. 
Sign-Up to Volunteer
If you have a few hours to give each week we would love to hear from you: Apply to Volunteer