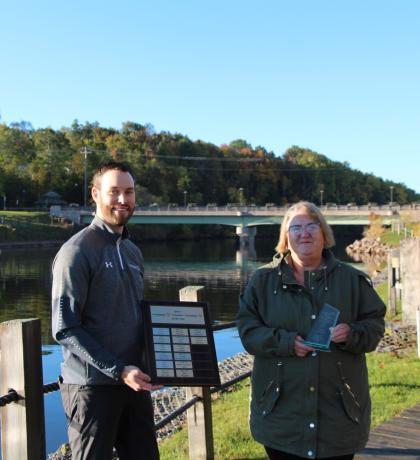 Volunteers are the backbone of Special Olympics.  It is because of our dedicated volunteers that the programs offered by Special Olympics PEI are possible.  Special Olympics PEI is fortunate to have over 200 dedicated volunteers and volunteer coaches. From coaches, to event volunteers, to mentors, our volunteers do it all! This National Volunteer Week, April 24-30, we extend our sincere thanks to all of our volunteers. We also wish to highlight a few of our volunteers, including Montague volunteer, Donna Maloney. 
Donna has been volunteering with Special Olympics PEI in some capacity or another for the 22 years her son, Andrew, has been an athlete. From volunteering at Bowling Provincials, to taxiing athletes to soccer practice, Donna wears many hats as both a mom and a volunteer. Most recently Donna has been a coach with the Montague Swimming program. Having a background in swimming, Donna was happy to help out with the program. Like many parents of Special Olympics athletes, Donna's involvement also has a lot to do with her son. Andrew loves swimming, and has been in the water from a young age. Donna views coaching the swimming program as a good way to both keep Andrew swimming, and to give him a night out with his friends. 
Donna very much enjoys her time volunteering as a coach with the Montague Swimming program. She really enjoys working with the group of athletes who attend. She sees the main benefits of the program as two-fold: keeping in shape, and social. While the majority of the athletes who participate are not competitive, getting in the pool once a week, in addition to the other activities they are involved with through Special Olympics, is great exercise. The social component of Special Olympics is also a driving force for many athletes. 
Looking ahead to the Summer months, Donna is looking forward to coaching Bocce again this year in Montague. Last Summer Donna volunteered to help bring Bocce to Montague. With the bowling lanes no longer operational in Montague, Bocce helps to fill the gap for the athletes who formerly bowled. Donna is also looking forward to Andrew being active again in golf, soccer and bocce. 
When asked why a potential volunteer should consider getting involved with Special Olympics, Donna is quick to say how well worth her time the experience has been. Always having a great time when volunteering, Donna also sees the experience as an opportunity for personal growth and learning. Getting to know the individual athletes has been a highlight of her time volunteering. 
Sign-Up to Volunteer
If you have a few hours to give each week we would love to hear from you: Apply to Volunteer