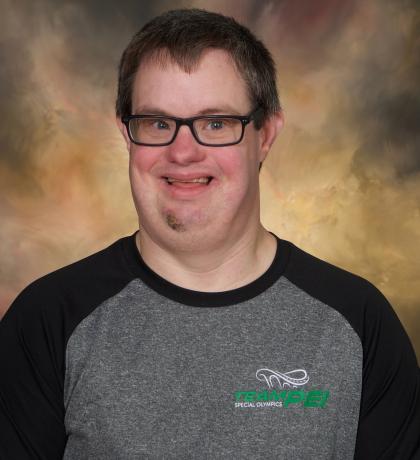 Paul Phillips, Summerside, has been a Special Olympics athlete for 27 years. Over the years Paul has participated in Athletics, Floor Hockey, 5-Pin Bowling, 10-Pin Bowling, and Curling. The 2018 Bowling Championships will be Paul's 7th National Games.
Paul will be representing PEI, in front of a hometown crowd, at the 2018 Bowling Championships, in the sport of 10-Pin Bowling. Paul will have the hometown advantage as he trains at both the Tyne Valley and Summerside 10-Pin lanes. Paul has been training hard since being named to Team PEI, training several times a week with his 10-Pin teammates.
For the past 20 years he has been a co-emcee for our Special Olympics Festival and he is a highlight of the event. In his role he has made great friendships with his co-hosts, developing a deep and personal relationship with his long-standing Co-Emcee Gino Reda and serves as a role model and inspiration to his fellow athletes.
Paul takes his role as Festival Emcee very seriously and the Festival has benefited from his dedication and commitment. In recognition of his dedication and commitment, Special Olympics PEI inducted Paul into the Hall of Fame in 2012, one of the inaugural 3, along with Gino Reda, and Dion Phaneuf. Paul was also recognized for his work in the community by being awarded the Queen's Jubilee Medal in 2012.
Paul is also an enthusiastic member of Athlete Leadership team in PEI and an Athlete Mentor with the Summerside Athletics program.
Paul is a well-rounded athlete, respected member of his community and someone who shares the spirit of Special Olympics. He exemplifies the goals of the movement in his personal life by enriching lives, both in Special Olympics and in his community.