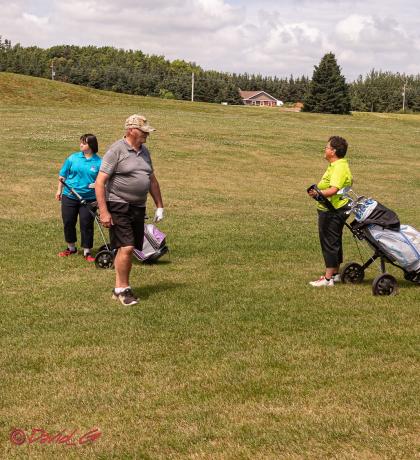 Louis Shea doesn't necessarily consider himself a coach. Instead, he says he is simply a dad who wants to help his daughter enjoy a sport that he loves. He is quick to admit that he has just as much, if not more, fun than the athletes at program each week.  Louis' story is typical of many Special Olympics coaches. Louis is a parent who stepped up to fill a role so that his daughter could participate, and at the same time is providing opportunities to other athletes. This week we are saying Thanks Coach to all of our incredibly dedicated coaches, like Louis Shea, Head Coach of Special Olympics PEI's West Prince Golf program. 
When Louis' daughter, Sarah, graduated from high school, Louis and his wife, Brenda, wanted Sarah to get involved, and be more active in the community. Sarah had previously bowled with her dad, and had participated in Unified Bocce programs at her high school, Westisle Composite High. Louis knew that two other Special Olympics athletes from the area, Heidi Mallett and Janet Charchuk, golfed a few holes each week. Louis, an avid golfer, started taking Sarah to golf with them. Louis used to take Sarah out golfing with him, letting her chip to the green and putt. Now that she was a bit older, Louis wanted Sarah to participate, especially as she started enjoying golfing more and more. Louis took a leading role in establishing the West Prince Golf program, so that Sarah, and others, would have more opportunities. As the new Head Coach of the program, Louis was also happy to be able to support athletes like Heidi and Janet. 
Louis' home golf course is St. Felix, a 9 hole course in Tignish. A long time member, Louis, now retired, golfs there everyday. When Louis approached owner Paul Martin about hosting a Special Olympics golf program there, Paul was totally supportive of the idea. For the last 4 years the program has called St. Felix home.  With a course that loops back to the club house every 3 holes, the group can easily play 3 or 4 holes each week. St. Felix has been a welcoming course for the West Prince Golf program. In addition to the support from the owner, Paul, the course members are always happy to see the Special Olympics athletes on the course. Inclusion is an important value for St. Felix, and the golfers who call the course home. 
As a celebrate National Coaches Week, we say thank you to coaches like Louis!
Become a Coach
Learn more about becoming a coach with Special Olympics PEI: Find your place in Special Olympics.