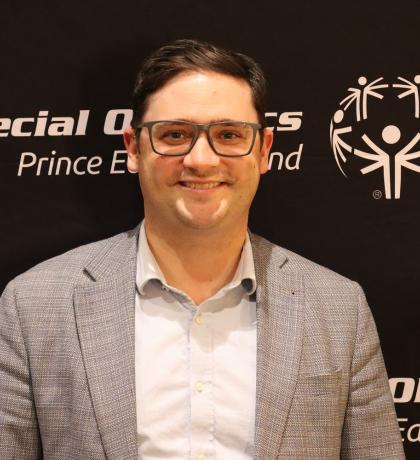 Special Olympics PEI is governed by a volunteer Board of Directors. This group of dedicated Islanders dedicate their time and talents to enriching the lives of Islanders with an intellectual disability through their volunteer service on our Board. 
We are thrilled to launch a Meet our Board series, where will we introduce and profile our Board of Directors. We begin this series with our Board President - Jamie Arsenault. 
Meet Jamie Arsenault
Jamie Arsenault is the President of Special Olympics PEI's Board of Directors. An Account - Partner at Fitzpatrick and Company, Jamie has worked for 15 years in the industry. Jamie joined Special Olympics PEI's Board of Directors in 2009, first as Treasure, then Vice President, before moving into the role of President.  In addition to this role on the Board, Jamie has previously volunteered as an assistant coach with the Charlottetown Softball program. 
Jamie joined the Special Olympics PEI Board as a way to give back, saying "I was looking for a way to give back to the community and I saw that there was an opening on the board. I had attended a few of the (Enriching Lives) Galas in the past and thoughts this would be a great fit for me. And I was right!"
When asked about his favourite Special Olympics moment, Jamie spoke of the Annual Awards, saying "my favourite Special Olympics event is the awards ceremony. The excitement of the athletes is contagious and the respect they show each other is unparalleled. It is heartwarming to see the excitement that each nominated athlete shows and even more so to see how excited they all are for the winner of the award. It is hard to leave the event without a smile on your face."
Learn More
Learn more about, and meet the other members of, Special Olympics PEI's Board of Directors.