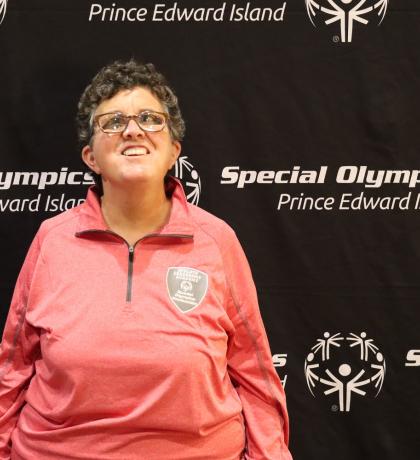 Special Olympics PEI is governed by a volunteer Board of Directors. This group of dedicated Islanders dedicate their time and talents to enriching the lives of Islanders with an intellectual disability through their volunteer service on our Board.  
This week we are delighted to introduce our Athlete Representative, Heidi Mallett. 
Meet Heidi Mallett
Heidi Mallett joined Special Olympics PEI's Board of Directors as a Athlete Representative in 2018. As the Athlete Representative, Heidi is a voice for Special Olympics PEI's over 650 athletes.  In addition to her role on the Board, Heidi is a member of Special Olympics PEI's Athlete Leadership Academy and volunteers at various fundraising events.  As an athlete, Heidi currently participates in Golf, Bocce, Snowshoe, and 5-Pin Bowling. 
Heidi recalls when she was first approached to consider joining Special Olympics PEI's Board, saying "I was invited to join SOPEI board as Athlete Representative because of my past experience with other disability organizations boards as well as the Canadian Athlete Leadership Council."
Heidi's favourite Special Olympics moments come from weekly programs and the many competitive opportunities she has received through her involvement: "It allows me to participate in weekly sports program like golf and 5pin bowling just to name a few. It has been an honour to travel for Provincial and National Games."
LEARN MORE
Learn more about, and meet the other members of, Special Olympics PEI's Board of Directors.