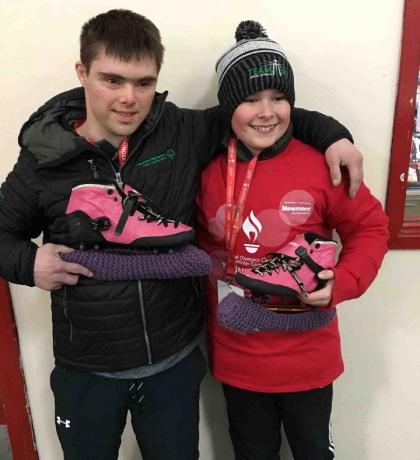 Good news story from Team PEI 2020 Speed Skating! This story showcases what Special Olympics is all about.
Jordan Koughan is a member of Team PEI 2020 Speed Skating Team. The Special Olympics Canada Winter Games Thunder Bay 2020 are Jordan's first National Games, and due to a technical/safety issue with his speed skates, he required different equipment to compete after his practice yesterday.
Following months of training, hard work and dedication to his sport, both Jordan and his coach, Kristen MacDonald overcame the potential barrier of finding the proper equipment. Although unsure of what to do next, Kristen knew that having Jordan sit out from competition was not an option. For his part, Jordan put on a brave face, and said he could do this! With this as their determination, the quest was on to find a way for Jordan to still compete!
A local Thunder Bay 12-year old speed skater, Russell Cooper-Landry of the Thunder Blades Speed Skating Club and his mother, Laura Cooper, President of the Thunder Blades and Venue Manager at the Games, came to Jordan's rescue. When Laura heard the news she quickly reached out to local speed skaters, and personally drove around after the Opening Ceremonies, collecting as many pairs of skates as she could for Jordan and two other athletes in the same situation. In the end it was a pair of Russell's own skates that fit Jordan. Following a quick test skate on a maintained outdoor rink and equipment modifications this morning, Jordan was all set for this afternoon's Divisioning Round.
As Jordan took to the track for his Divisioning Races this afternoon he had some new fans cheering him on; Russell and Laura. Russell is also a volunteer with the Games, and is assigned to collecting guards before athletes take to the ice. Russell spent the afternoon cheering on Jordan, knowing that he played a part in making this opportunity of a lifetime come true for Jordan.
Reflecting on the ordeal, Team PEI Chef de Mission Matthew McNally said "I'm so proud of the both of them. It's tough to stay composed as a coach through these challenges, and it is just as hard for athletes to adjust to new equipment."
Matthew McNally continues by reflecting on Jordan's journey to National Games, saying "To witness the journey where Jordan started out in the sport of speed skating on hockey skates because it provided additional ankle support, and then reached a significant milestone transitioning to modified speed skates late last year has been so inspiring. Each event he attends he continues to improve personal best times. This bump in the road has forced him to transition into true competitive speed skates earlier than anticipated, and I know Jordan is ready to give it his all and continue to improve his times."
Jordan competed in the Divisioning Rounds for the 111m, 333m, and 500m this afternoon. He attained personal best times in ALL THREE distances and most notably was 9 seconds faster in his 500m than ever before!
On behalf of Team PEI 2020, please join us in extending a most sincere thanks to everyone involved, including Russell and Laura, who are now, and will always be, honorary members of Team PEI!