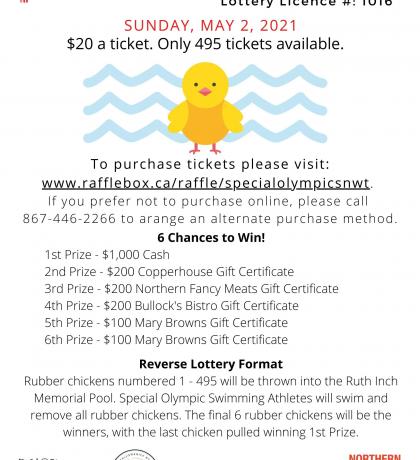 Thank you to everyone who supported our Pick-a-Chick raffle! A special thank you to our generous Sponsors Copperhouse, Northern Fancy Meats, Bullocks Bistro, and Mary Browns. Congratulations to the following winners:
1st - $1000 Cash - Dave Earle
2nd - $200 Copperhouse - Erin Scott
3rd - $200 Northern Fancy Meats - Geri Elkin
4th - $200 Bullocks Bistro - Dawn Costello
5th - $100 Mary Browns - Jan Vallillee
6th - $100 Mary Browns - Nicole Loubert
If you wish to recap the event and watch the draw, head over to the Special Olympics NWT facebook page as the event was streamed live on the page!