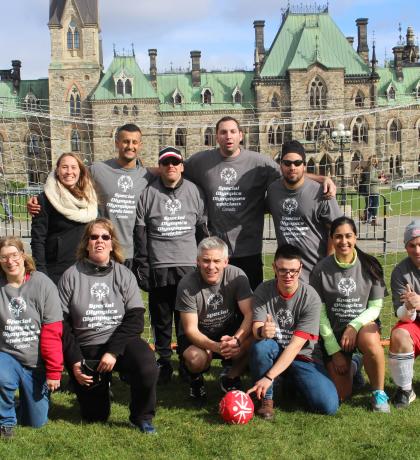 October 25th marked another day of thanks for Special Olympics Canada, which is dedicated to enriching the lives of individuals with an intellectual disability through active participation in sport. More than 70 Special Olympics athletes, family members, volunteers and staff gathered from across the country for the organization's third "Hill Day" initiative. The group enjoyed an opportunity to meet one-on-one with Members of Parliament and Senators, and to participate in a friendly soccer match on the front lawn of Parliament Hill, hosted by Olympic Gold medalist and Special Olympics Canada Vice-Chair Mark Tewksbury.
The daylong event served as an opportunity to thank the federal government for its unwavering support; to impress upon them the impact of previous funding allocations (2014 federal budget); and to request, in person, additional support and continued federal funding in the 2018 federal budget. Special Olympics Canada delegates met with more than 100 MPs and Senators on Hill Day, including Prime Minister Justin Trudeau.
"We are excited to share with Members of Parliament and Senators from across the country, our stories, and to showcase the impactful work and accomplishments we have realized with the Government of Canada's current funding. Renewed funding in 2018 is so important to maintain the momentum we have built and to ensure we can deliver our sport programs to even more Canadians with an intellectual disability," said Sharon Bollenbach, CEO of Special Olympics Canada.
Special Olympics Canada aims to broaden the delivery of high-impact, cost effective, community-based sport programs for athletes with an intellectual disability. Approximately 5% of Canadians with an intellectual disability are registered with Special Olympics in Canada today. Special Olympics Canada and the 12 Provincial and Territorial Chapters across the nation are committed to significantly increasing this number, and to engaging athletes in communities across the country in the amazing achievements to be shared through the power of sport.
Special Olympics Canada's request for continued funding from the federal government will be instrumental in driving continued momentum and growth of its sport programs in communities across the country. Special Olympics Canada shares in the government's vision of 'sport for all' and encourages the federal government to continue to support its movement in Canada, and to invest in building inclusive communities across Canada.