In honour of Global Week of Inclusion, Special Olympics is celebrating homegrown Champions of Inclusion: Canadians leading the charge for respecting and embracing all abilities – not just in sports, but in the workforce, in schools, everywhere!
All Champions of Inclusion were nominated by the public for how they #ChooseToInclude every day of the year.
Meet these Ottawa Champions of Inclusion, Emran, Aliaa and Tasneem Alnahhas.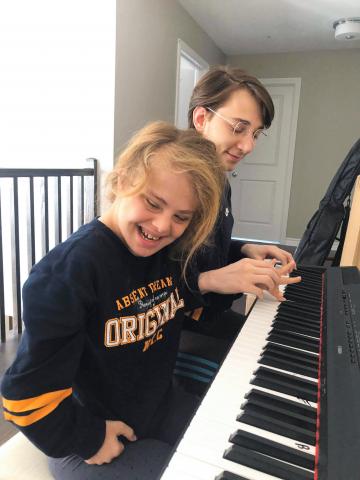 When 21-year-old Syrian refugee Emran Alnahhas moved to Canada with his family three years ago, he hoped for a better life for not only himself, but also his younger sister Aliaa, who has Down syndrome.
Inspired by the inclusion and opportunity witnessed in their new country, Emran and his 16-year-old sister Tasneem founded Levant Piano, a student-run program in
Ottawa that connects young musicians with individuals with an intellectual disability for music lessons.
"Before we came to Canada it was very hard to include Aliaa in anything," said Emran, a University of Ottawa Translational and Molecular Medicine student. "Countries outside of Canada are not as inclusive."
He, Aliaa, 17, and Tasneem grew up living between Syria and the United Arab Emirates. Aliaa attended school, but there wasn't a lot of extra-curricular activities for her.
When they went out in public, people would stare, or leave the vicinity, he said.
"She was very socially isolated," Emran added.
Aliaa is non-verbal, but shares a love of music with Emran and Tasneem. She plays both the xylophone and piano and uses the instruments to communicate – which was the inspiration behind Levant Piano. 
Having young musicians volunteer their time is an important part of the program.
"That's the only way you can be inclusive – you can't do it by yourself, you need the community to be involved," Emran said, adding that he recruits volunteers from university and Tasneem recruits them from high school. "The more you involve people, the more they understand."
Levant Piano officially launched last year and began with small music workshops at their home in Stittsville, a suburb outside of Ottawa. Hoping to expand programming to special education centres and schools, Emran hosted bake sales and fundraisers. 
He raised $370 before the Covid-19 pandemic hit. Unable to set up virtual workshops on their own, Emran and Tasneem donated the funds to The Lotus Centre, an organization that provides access to adapted music education programs for individuals with an intellectual disability.
Emran and Tasneem hope to deliver online workshops through Levant Piano soon and, of course, plan to continue their original in-person workshops once Covid-19 restrictions lift. 
So far, Levant Piano has been a major achievement for the siblings, not only because there's an interest among their peer groups, but also because of how it's impacted Aliaa.
"She's way more happy now," said Emran.
To learn more about Levant Piano click here.