Help make dreams come true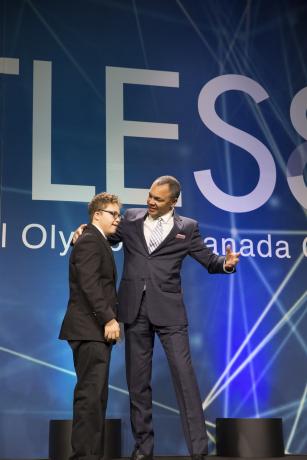 Draft an Athlete is a program that allows supporters of the movement to fund a Special Olympics athlete's journey to a regional, provincial, national or world competition. The cost of sending athletes to competitions is high. Through the Draft an Athlete program, more athletes are able to attend a competition through direct support.
Each year at LIMITLESS: The Special Olympics Canada Gala, attendees pledge their generous support to help create memories of a lifetime for athletes attending Special Olympics competitions. Thank you to all those who Drafted an Athlete at the 2017 LIMITLESS gala.
Thank you to all those who contributed to the Draft an Athlete program at the 2017 LIMITLESS Gala. YOU've allowed our athletes to reach their full potential.
Aaron Zifkin
AirBNB Canada Inc.
Allan Jenkins
Andrew Barnicke
Andrew McLenan
Andrew Wong
Ben Charles
Blake Hutcheson
Cam Fowler
Canadian Olympic Committee
Charles Bordeleau
Chase Paymentech Solutions
Coca-Cola Canada
Craig Fields
Crawford Smith
Crombie REIT
Dan Markham
Darcy & Suzanne Curran
Dave McPherson
David Clanachan
David Walker
David Wiley
Diana De Melo
Don Flinn
Elaine Lui
Elliot Kohn
Emily Fisher
Evanka Hutton
Fibernetics Corp.
Frank Vettese
Fredeen Ken
George Mavroudis
Heather Strati
Jake Bullen
Jamie Sale & Craig Simpson
Jed Fallis
Jennifer Guerard
Jennifer Walker
Jim Dickson
Jocelyn Flanagan
John Baston
John Scullion
Joseph Likuski
JP Morgan
Kath Hammond
Kent, Shelly and Kelly Thomson
KPMG Enterprise
Krista Hill
Lawrence Lewis
Lisa Keay
Maple Leaf Sports & Entertainment
Marianne Flinn
Mark Jenkins
Mark Kafka
Mark Milliere
Martha Eggenberger
Martin & Jeanette Venema
Martin Worndl
Mayssaa Kitmitto
Michael Lay
Michael Merrithew
Michael Samoszewski
Mike Lamontagne
Mike Trojan
Mitchell Sain
NFL Canada
North American Logistics
Osler Hoskin & Harcourt
Oxford Properties
Paul Graham
Peter Luongo
Peter Sucharda
Phoenix Performance Products Inc.
Promotivate
Randy Ambrosie
Rod Malcolm
Russ Wenman
Saba Obaid
Scott Fraser
Shawn Redmond
Signature Authentics
Staples Canada
Stephanie Labbé
Steve & Jane Donald
Stewart Johnston
Stewart McKelvey
Terry Dobbin
The Annual Foundation
Tom Bradfield
Virginia Gibson
Volaris
Wealhouse Capital Management
William Green
Wolfgang Juchem
Yazan Alwaid
Donations to Draft an Athlete were made by:
Alexius D'Cruze
Angie Balian
Blair Cameron
Blake Hutcheson
Bob McKenzie
Brian Barr
Brock Wilimek
Cathy Park
Chandra Severin
Cheryl Burt
Cynthia Thompson
Danielle Skipp
Darren Dreger
David Clanachan
Giles Gherson
Graham White
Jill Lamontagne
John Harlow
Judy Ermelini
Kim MacFarlane
Madhu Rupasinghe
Mara Nickerson
Maria Cruz
Maureen Brown
Mike McCauley
Rosannagh MacLennan
Ryan Voegeli
Samuel Heath
Shelly Beach
Stefan Schultz
Suhuyini Abudulai
Terry Davis
Vanessa  Haltrecht
Vivek Sood