"Where students and educators work together to improve school climate and make their communities more accepting for all."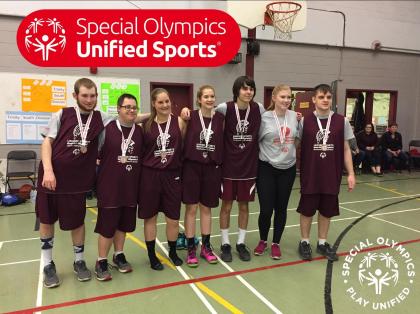 Team sports bring people together.  Special Olympics Unified Sport teams do that, too, and much more.
Special Olympics Unified Sports is an inclusive program that combines Special Olympics Athletes (individuals with an intellectual disability) and partners (individuals without an intellectual disability) on teams for training and competition.
How does this connect with our NL School System?
Special Olympics Unified Sport promotes social inclusion through shared sport training and competition experiences for individuals with and without intellectual disabilities.  Unified Sports helps increase the skills necessary for individuals with an intellectual disability to be accepted and fulfilled socially.
What will Our Unified Competition look like?
Unified Competitions will follow the same divisioning principles that we use in all of our Special Olympics competitions.  Teams of comparable ability will be grouped together for meaningful competition.
Schools will create teams with athletes and partners to learn the sport and train together.  Before competition teams will be asked to complete a skills assessment test on their players to ensure they are placed in a equitable division.
Each division will receive their own set of awards; thus some competitions may have multiple first place teams.
Unified Sports
Special Olympics NL has created several fundamental movement skills related competitions for January - February! In April our STEP into SPRING CHALLENGE will take place.