Challenge Yourself!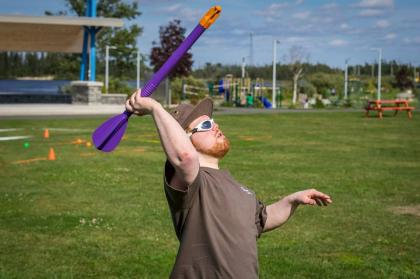 Whether aiming for a personal best or looking to be the best, being a Special Olympics athlete is about enjoying sport and choosing to challenge yourself.
In order to created an environment that is beneficial for everyone involved, on both a competitive and personal level, Special Olympics has taken great care in developing our sport rules and our process for placing each athlete in the appropriate group for competition.  This way, every athlete is able to participate and benefit from being active.  For more information please visit our Divisioning page.
 Get involved today in your favourite sport as an athlete, coach or volunteer 
 Summer Sports
 Athletics
 Bocce
 Golf
 Powerlifting
 Rhythmic Gymnastics
 Soccer
 Softball
 Swimming
 Winter Sports
 5 Pin Bowling
 Cross Country Skiing
 Curling
 Floor Hockey
 Snowshoeing
 Figure Skating
 Speed Skating
 Other Programs:
 Young Athletes
 Unified Sports - in the schools
 The fundamental difference which sets Special Olympics competitions apart is that athletes of all ability levels are encouraged to participate and every athlete is recognized for their performance. Competitions are structured so that athletes compete with other athletes of similar ability in equitable divisions.
 Similar to other sports organizations, Special Olympics competitions are structured to provide opportunities for increasingly challenging competitions. This means that recreational and competitive athletes will have the opportunity compete at the local, provincial, national or even world competitions based on qualifying criteria.