Our Volunteers Enrich Lives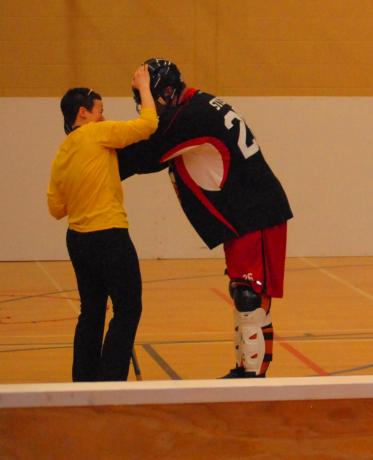 Becoming a volunteer or coach with Special Olympics has many rewards.  Along the way, we are always here to help.  Our training programs are designed to ensure that you are able to meet the needs of any athlete involved in our organization with both confidence and skill.
Special Olympics sees our volunteers coaching in two main areas; those that are preparing athletes for Provincial, National and World Games, and those who will work with athletes in their community who wish to be active for life.  For this reason, we provide coach education that focuses on reaching the potential of both athletes and coaches in these two sporting areas.
To receive sport technical knowledge, a Special Olympics coach must also participate in the sport-specific workshop.  These workshops provide the necessary knowledge in order to coach the technical aspects of sport.  Special Olympics Canada does not run workshops pertaining to the technical aspects of Special Olympics sports. This is accomplished through our partnerships with national sport organizations (NSOs) and provincial/territorial sport organizations (P/TSOs).
REMINDER: Volunteer and Coach on-boarding process and Special Olympics requirements outlined in our current policies.
Specific Training Requirements
SONL Coach & Volunteer On-Boarding Process
YOUNG ATHLETES COACH
In addition to the above Coach requirements:
NCCP Multi-Sport Fundamentals Movement Skills (FMS)
PROVINCIAL TEAM COACH
In addition to the above Coach requirements:
NCCP Minimum Sport Specific Technical Training or Coaching Hours (For National / International Games)
ATHLETE LEADERSHIP FACILITATOR
Special Olympics Canada's Core Training module for Facilitators
Safe Sport Training eLearning Module
safe sport training guide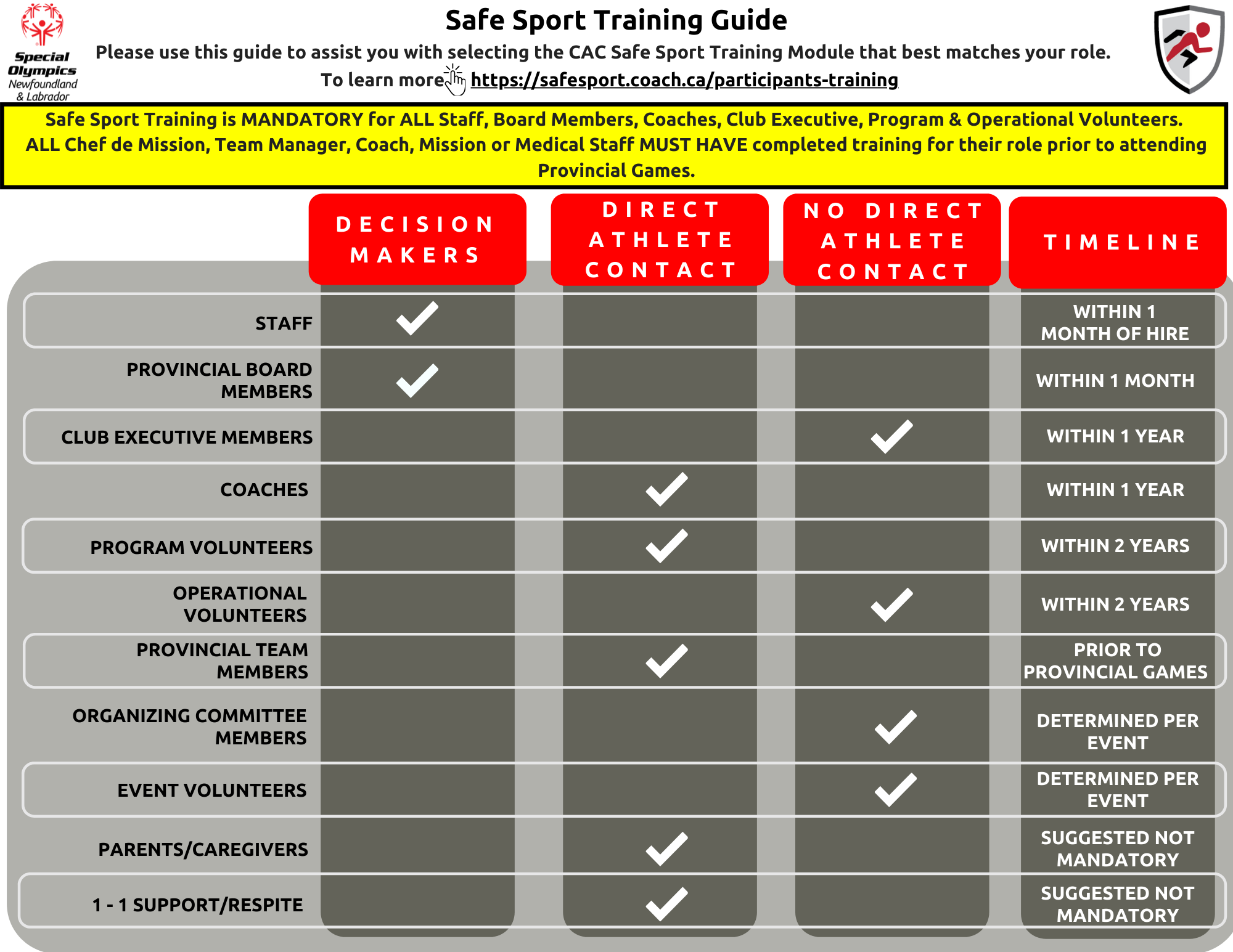 Note: If you hold multiple roles with Special Olympics NL and have any contact with athletes in one of those roles, please complete the Safe Sport training module Direct Athlete Contact.
Looking for more information and how to access training?
Additional information and resources for volunteers and coaches is available on our Resources for Volunteers and Coaches page.
Please contact us today with any questions you have on your coach and volunteer education pathway!
HOW TO ACCESS REQUIRED TRAINING
When: Ongoing (Only required to be completed once by each registered volunteer)
Timeline: registered volunteers should complete within the first year of becoming a volunteer with SONL
Required by: all volunteers in any role
Event Location: Special Olympics Canada's Online Volunteer Orientation
This course is targeted as a basic introduction to Special Olympics in Canada. It covers;
Overview and Introduction to Special Olympics
Risk Management
Working with Special Olympics athletes
How to:
Go to: solearn.ca 
Register (then follow instruction in the confirmation email that you receive) OR Sign In and proceed to step 3
Go to "All Courses"
Select "Canada"
Select "Volunteer Training"
Select "Volunteer Orientation - Click to enter this course" 
Select Enrol me
Complete each module
Click SOC Volunteer Orientation Certificate
Click red button "Get your certificate"
Follow the directions of your community club as to printing/emailing certificate and where to send it.
Module: Making Ethical Decisions (MED) and Online Evaluation
When: Ongoing (Only required to be completed once by each registered volunteer or coach)
Required by: EVERYONE ( within 2 years registering with SONL)
Event Location: MED Module See Coaching NL Calendar / MED Online Evaluation is online
Important: This course is included as a requirement to complete the Special Olympics Canada Sport Workshop and Sport Technical for Curling, Figure Skating, Speed Skating, Cross Country Skiing, Alpine Skiing, Basketball, Softball, 5-pin and 10-pin Bowling, Rhythmic Gymnastics, and Swimming.
Evaluation: Once the MED Module is complete you are required to complete your evaluation online to complete the certification; follow the steps below:
You will need to Log-in to The Locker (if you need your NCCP# and password, email our Program Director) and:
Complete Login with your NCCP# or email and password.
Find the "Home" section or click the Home icon beside the red Profile Tab
Select the "eLearning" option from the main screen under the navigation section.
Select "Making Ethical Decisions (MED) online Evaluation" from the list on the left-hand side.
Select "Continue" below the Frequently Asked Questions.
Select "Begin" on the bottom right

If you previously took MED: You will have unlimited attempts at obtaining a passing grade of 75%
If you have not taken MED: There will be an $85 charge and you will have 2 attempts.  
eLearning
Click drop-down menu to choose Multi-sport, select from the list of workshops
Coaching Athletes with a Disability
Leading a Return to Sport Participation - Mandatory for all volunteers prior to returning to in-person programs
Make Ethical Decisions (MED) Online Evaluation - This is to be completed once you have completed the MED course (virtual or in-person)
Making Head Way
Managing Conflict Online Evaluation - This is to be completed once you have completed the full course (virtual or in-person)
Mental Health in Sport
Safe Sport Training - Note your role with SONL and the different modules offered, select the module that suites your role best - This is a mandatory course for all volunteers with SONL. If you fill more than one volunteer role, you should take each module that applies to each role you fulfill.
Sport Nutrition
Click drop-down menu to choose Special Olympics, select from the list of workshops
Coaching Athletes with Down syndrome
Diversity and Inclusion in Action
Supporting Individuals with Autism in Recreation Settings
calendar (in-person)
1. Select the month, year and province.
2.Select either all Sports or a specific sport to view what workshops are being offered
https://coach.ca/safe-sport-training
Safe, inclusive sport environments help make sport rewarding and enriching for all. By completing Safe Sport Training you will gain the knowledge and skills to create healthy and safe environments by recognizing, addressing and preventing maltreatment in sport.
This NCCP Multi-Sport course is Mandatory for ALL Special Olympics NL Volunteers, Staff, Board Members etc.
Special Olympics NL asks that all Athlete Leadership Facilitators complete Special Olympics Canada's Core Training module for Facilitators.  As the Athlete Leadership program continues to grow in Canada there is a need to ensure that delivery of the content and workshops is of high quality and consistent across the country.  
The module is designed to help facilitator candidates develop the required skills to successfully facilitate courses in Special Olympics Canada's Athlete Leadership Program.
Once this module is complete, learning facilitators will be able to:
Describe the Special Olympics Athlete Leadership Program in Canada
List the key steps in preparing to facilitate an Athlete Leadership course
Explain the characteristics and skills of an effective facilitator
Describe approaches for managing challenging scenarios in the classroom
This module take approximately 30-40 minutes to complete and is delivered as an online course.
If this is your first time signing in to the Volunteer Orientation Platform please follow instruction above under Volunteer Orientation above.
Link: solearn.ca (under 'All Courses' Tab, click Canada and then select Volunteer Training)
Leaning Facilitator Pathway
STEP 1 - Completion of Core Training for Athlete Leadership Learning Facilitators (online)
STEP 2 - Participate in course content training or a train the trainer workshop (for each specific ALPS course)
STEP 3 - If possible, co-facilitate specific athlete leadership course to athletes
STEP 4 - Independently, facilitate specific athlete leadership course to athletes
Instructions:
 1. Visit Special Olympics Canada's e-Learning Centre
2. Click on create a new account
 3. Fill in the form and submit
 4. Wait for confirmation email, click on link
 5. Then you can enter site and find the volunteer training
 6. Click on Canada
 7. Click on Volunteer Orientation
 8. When you get the first page of orientation, click on Part One Introduction and Overview, and then follow the modules.
To learn where to access training and other helpful resources please visit our Volunteer & Coach Resources Page.