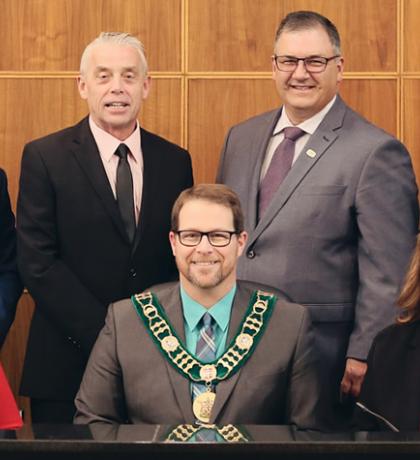 We want to honour people from across the country who respect and embrace all abilities every day of the year!

A Champion of Inclusion can be:
• From sports (an athlete, coach, volunteer)
• From the workplace (a boss, or co-worker)
• From school (a teacher, volunteer, student, Principal)
• From Health (a doctor, nurse, caregiver)
• From the Government
• From your community (a friend, neighbour, family member, activist, supporter)
• Anyone!

To cap off our Global Week of Inclusion, our final Champion of Inclusion is the Town of Grand Falls-Windsor. We received two separate nominations for the town so we know it must be a wonderful place to live. #ChooseToInclude. The Special Olympics NL Exploits Hurricanes is delighted by the support they continue to receive from the town.
The Town Council of Grand Falls-Windsor is a Champion of Inclusion for countless reasons.

The Town of Grand Falls-Windsor hugely support the local Special Olympics NL Exploits Hurricanes club in all aspects of operation. In 2019 the town of Grand Falls-Windsor hosted the SONL Provincial Winter Games. Each council member was actively involved with a number of areas from planning, to daily operations, venues the list is endless. Deputy Mayor Mike Browne, was Chair of the Games Organizing Committee for the Special Olympics NL Provincial Games 2019 and played an integral role in the games success.
Grand Falls-Windsor hosts Annual Civic Awards, each year they have a Special Olympics Athlete of the Year Award. During town festivals and celebrations there is almost always a role for the Special Olympics athlete, whether to be showcased for their accomplishments or involved in the planning and execution of the event. When comes to the individual Special Olympics athletes the council is very inclusive, when making decisions for the community as a whole - individuals with intellectual disabilities are always taken into consideration. The councillors as individuals, in their work or volunteer life outside of council duties, are very active and inclusive with individuals who have an intellectual disability. Some council members are employers to SONL athletes, others educators and some are mentors. Collectively in all aspects of their daily lives the town council for the community are inclusive and continue to educate not only themselves but help share the message to others that individuals with an intellectual disability have strength, value and are key contributors to the community as a whole. This is why they are Champions of Inclusion!
The town has been an amazing support to not only Special Olympics but many other groups in our community. They developed a Special Olympics Athlete Award for their Annual Civic Awards Gala. They are very supportive, approachable and accommodating. They certainly went above and beyond for the SONL Winter Games and Bocce Provincials. They adapted to every scenario, NL weather included, and provided services to make smooth adjustments. They have provided wheelchair swings in playgrounds in Grand Falls-Windsor. There are many employees at the town that have deficits. The town supports their needs and helps them be contributing members of society.
The Town of Grand Falls-Windsor are true supporters of inclusion of any kind. The college of the North Atlantic in Grand Falls-Windsor has 50+students from India where the town has welcomed and collaborated with other community programs to support these students to succeed, from collecting 'warm' clothing, find accommodations and even help them move. The town works closely with many organizations such as providing Welcome NL with office space and supporting the Multicultural Association, the housing and homelessness network, LGBTQ just to name a few. The town has a huge rainbow crossing directly in front of the town hall and hosted a milk & bookies pride theme event. As well as Multicultural cuisine and Trivia Nights.
I could elaborate all night. The Town of Grand Falls-Windsor is all about welcoming any and all types of humanity with an open mind, acceptance, understanding, support, encouragement and promotes differences. A true community of inclusion.