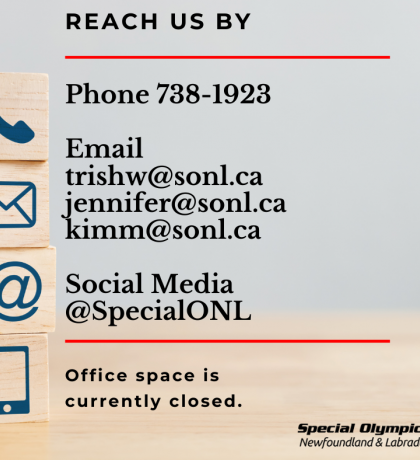 In light of the latest guidance from the Provincial and National Public Health Officials, and in order to limit any possible risk to the members of our community, Special Olympics Newfoundland & Labrador has made the very difficult decision to pause all training programs, all competitions, and all face-to-face meetings and activities until June 30, 2020.
We realize that this is difficult for our athletes, coaches and volunteers. SONL is working to help you maintain healthy living and your social connections. Please see our resource section Healthy @ Home!.
We are monitoring the COVID-19 situation and will determine when it is safe to resume our programs.  The office is closed, and the staff are working from home.  If you have any questions, please email us.
Trish Williams, Executive Director  trishw@sonl.ca
Mike Daly, Program Director miked@sonl.ca
Kim McDonald-Wilkes, Program Coordinator kimm@sonl.ca
Jennifer McCann, Membership Services Coordinator jennifer@sonl.ca
STAY INFORMED