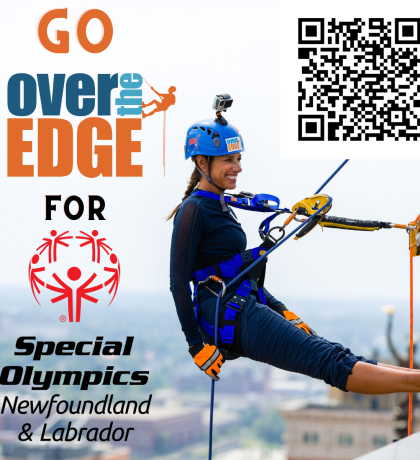 DO YOU HAVE WHAT IT TAKES TO GO OVER THE EDGE?

EVENT DATE: August 18th 2023
LOCATION: 110 Hebron Way, St. John's, NL
How do I participate?
1. SIGN UP NOW to become an Participant
2. Easily set up your personal fundraising page
3. Reach the $1000 fundraising minimum!
4. Experience the once-in-a-lifetime opportunity to rappel
Help send our team to the Special Olympics Canada Winter Games in Calgary!
February 27 – March 2, 2024
$25 – Snacks for hungry participants throughout Games week.
$50 – Meals for a participant to and from National Games
$100 – Sport-Specific Competition Attire for an athlete
$250 - Walk-out attire for a participant Opening Ceremonies
$500 – Send a participant to Training Camps for the National Games
$1000 – A plane ticket to Calgary for February 2024!
Special Olympics athletes from Newfoundland & Labrador will once get a chance to compete on the National stage in Calgary from February 27 – March 2 at the Special Olympics Canada Winter Games!

Athletes earned their spot on Team NL heading to Calgary by competing at the Special Olympics NL Provincial Winter Games in the central region this past winter. Members named to the Provincial Team Program will train upwards of 3 times a week, follow healthy living lifestyles and attend various training camps to prepare them for the upcoming Special Olympics Canada Winter Games.
In addition to the athletes named to Team NL; coaches and mission staff have also been selected to enhance the experience of the athlete. Special Olympics strongly believes in coach education and will help facilitate both coaching and officials training in the lead up and preparation of the National Games.
Our athletes have traditionally done exceptionally well at the Special Olympics Canada Games; the Games provides athletes with an intellectual disability an opportunity to showcase their talents and test their skills against their peers making competition fierce and exciting for spectators. The National Games serve as a qualifying event to be part of Special Olympics Team Canada to take part the Special Olympics World Games.
June 2023, Special Olympics NL has 8 members as a part of Team Canada who travelled to Berlin (at the time of this writing they are currently overseas and in the midst of competition!). Special Olympics NL qualified athletes Michael Budden (Bay St. George Bravehearts) and Samantha Walsh (Bay St. George Bravehearts) in the sport of Athletics; Daniel Moores (Corner Brook Vikings) for Powerlifting as well as Melvin Hanhams (Exploits Hurricanes for Golf). Supporting these athletes are Joe Tremblett, Melvin's caddie for golf, Rosie Ryan, coach for athletics, Jeff Butt, coach for powerlifting, and Team Doctor Neil Cheeseman.
Team NL travelling to Calgary in February 2024 will be approximately 70 people strong. As you can imagine to adequately train, support, clothe and travel, there is a steep financial cost! This is where you can help!
Sign up to Rappel on Friday, August 18th! Raise $1000 and you'll have earned a spot to go "Over the Edge" of Verafin!

ABOUT SONL:
Special Olympics Newfoundland & Labrador (SONL) is a grassroots charitable organization that provides year-round physical literacy skills, sport training, nutrition education, health screenings, leadership development programs, social engagement, and competition opportunities for participants of all ages and abilities. Through the transformative power of sport, SONL gives individuals with intellectual disabilities the strength, determination, skills, and confidence to take on any challenge in sport and in life. There are fourteen community-based clubs serving athletes from over 100 communities throughout Newfoundland & Labrador supported by hundreds of volunteers dedicated to the empowerment and full participation in society of individuals with intellectual disability.