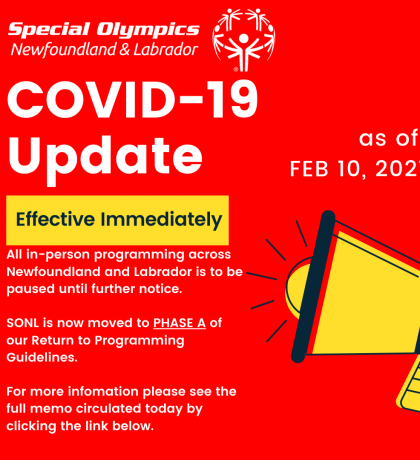 memorandum
DATE: February 10, 2021
TO: All Community Clubs
FROM: Program Director, Kim McDonald-Wilkes
------------------------------------------------------------------------------------------------------------------------------------------
Due to the special measurers order communicated today, February 10th, 2021 by Dr. Fitzgerald, Chief Medical Officer of Health during the Government of Newfoundland and Labrador COVID-19 Update -
Effective immediately all in-person programming across the province of Newfoundland and Labrador is to pause immediately and remain paused until further notice.
Special Olympics NL is now in PHASE A of our Phased Return to Programming effective immediately.
Club Coordinators with support from your Head Coach please communicate the immediate pausing of all in-person programs to your members. Please ensure to communicate to your members that when Special Olympics NL is advised under the Provincial Health Guidelines that in-person programming is safe to resume, SONL will work with each community club to return in a slow, phased approach, when it is safe to do so.
The provincial office will remain closed at this time and staff will be working remotely, staff can be contacted through email or phone.
We would like to take this time to be proactive and remind all community clubs of the Communication Protocol in place for confirmed cases of COVID-19 for active participants only. This information can be found in our Phased Return to Programming Guidelines at www.sonl.ca.
Please continue to reduce exposure to the virus and protect your health and the health of those around you by following all Provincial Health Guidelines and downloading the COVID ALERT App on your mobile device. We appreciate everyone's cooperation during this time.
If you have any questions, please contact.
Trish Williams, Executive Director trishw@sonl.ca 1-709-690-8335
Kim McDonald-Wilkes, Program Director kimm@sonl.ca 1-709-293-1444
Kim McDonald-Wilkes (She/Her)
Program Director
Special Olympics Newfoundland & Labrador