STAY ACTIVE AT HOME WITH SPECIAL OLYMPICS CANADA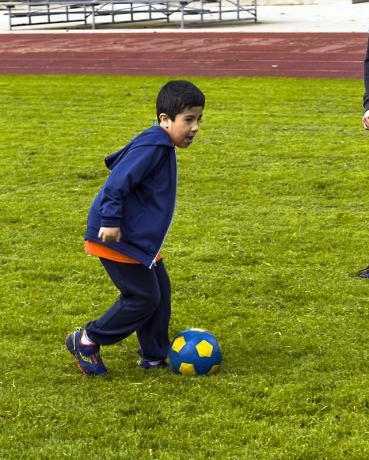 Being stuck at home is not easy and finding new ways to stay active can be a real challenge. With a return to sport coming sooner rather than later, Special Olympics Canada has developed a new At-Home Activity Program for young athletes and their families to enjoy.
We created 21 unique and fun activities to help young athletes develop new skills while getting active with their families. These activities are supported by a custom activity kit, filled with balls, bean bags, and other equipment you'll need for any of the 21 activities. This kit is provided free of charge and will be shipped directly to your house. Also, in upcoming emails, you will receive activity cards, with QR codes that link you directly to a video demonstration for each activity, so that everyone can follow along.
To help you guide your athletes to success, each activity card includes teaching cues to help develop their motor and sport skills. Once the athletes have gotten the hang of things, you can try some of the challenge cues to make things more interesting, or try out the games to really put their new skills to the test.
Every athlete can pick and choose which activities they want to do, or you can do them all. It's all about staying active and having FUN!
To get started with the program, and to receive your activity kit, kindly fill out the form below. 
The kits are available to families of individuals with an intellectual disability.  Special Olympics Canada has a limited amount of kits and it will be based on first come, first serve. The delivery of equipment kits will depend on availability and warehouse stock of the supplier.  They will be doing everything they can to get kits out quickly and efficiently based on orders.  Thank you for your patience and understanding.
How It Works
Step 1. Sign up to receive the activity pack. 
Step 2. The activity cards will arrive via emails, and the athletes will have the opportunity to design their activity by picking and choosing from the cards.
Step 3. Once everything arrives, find a big empty space with little distractions, and set up the necessary equipment corresponding to the activities your athlete chose. 
Step 4. If needed, scan the QR codes or use the link provided on your activity cards and follow along with the videos. Try out the challenge cues or the games to keep things interesting. 
Step 5. Share your At Home Activities with us on social media, on Instagram or Facebook, and show us how you're staying active while at home.