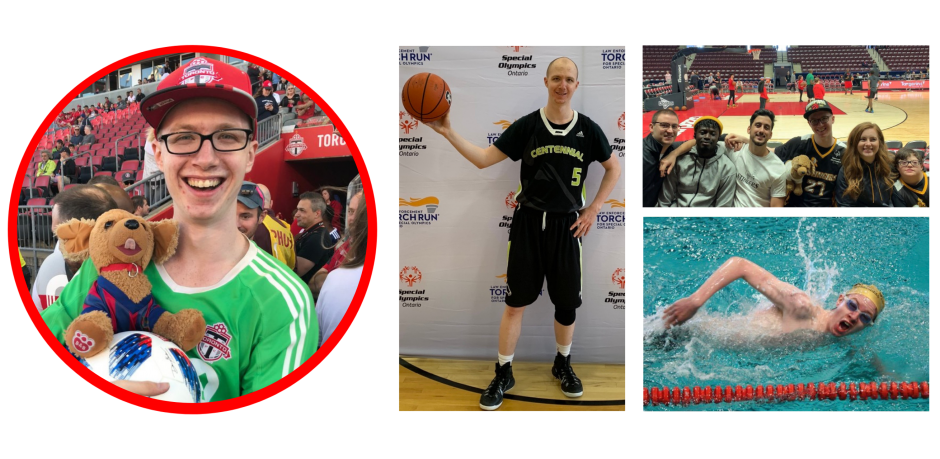 "It was hard to find communities where I was accepted, and in Special Olympics I don't have to try, I can just be myself."
YOUR DONATION WILL BE MATCHED!
A generous donor has committed up to $60,000 in matching funds for Draft an Athlete.
My sport:
I started in swimming at the age of 8 and later moved on to also participate in basketball, soccer, track & field and kayaking.
My favourite thing about Special Olympics:
My favourite thing is the sense of community. I grew up as an awkward kid and even if I was "good enough" to fit in with certain groups, my social skills often left me feeling like I was always an outsider. It took a lot of hard work to find communities where I would be accepted, and in Special Olympics I don't really have to try, I can just be myself.
My greatest accomplishment:
In Special Olympics sports, me and my friends have been granted a lot of incredible opportunities.
In swimming, I got to compete in the 2016 Provincials, where I got 1 gold medal, 1 silver and 2 bronze.
In soccer, I played goalie for the 2017 TFC Unified team, when we flew to Montreal to play against the Impact de Montreal's Unified Team, tying 2/2. That same year, I also got to represent MLS East during the 2017 MLS Unified All Star Game, where we played in Chicago, Illonois. The next year, me and 2 of my teammates were invited to play for Team Canada in the Special Olympics 50th Anniversary!
In basketball, I got to go 2018 Unified NIRSA championships with the U of T Scarborough (where we won as the only Canadian team). Most recently, I qualified for Team Ryerson in 2019 Youth Games—which were hosted by SO Ontario's own School Championships—where we won 2nd place in the finals.
My Etobicoke Stingers basketball team has also qualified for the 2020 Provincial Games, which have necessarily been postponed to keep everyone safe from Covid. When competitions eventually resume, we will enjoy the opportunity to finally present our skills.
How Special Olympics changed my life:
Special Olympics is about a lot more than just sports: it's a community which teaches everyone—from athletes, coaches and volunteers—how to be better people. For many Athletes, myself included, a lot of the executive functioning it takes to even be on a team is difficult: you have to go outside, take transit, make sure you brought the right equipment, interact with your teammates and listen to what your coaches have to say.
Special Olympics is also very accommodating, so no Athlete feels overwhelmed by being on a team, even though we are often challenged. That challenge is what makes us improve our life skills, so we can excel both in and out of sports.
How I've improved my leadership skills since joining Special Olympics:
Special Olympics offers a lot of opportunities to Athletes who want to help support our wonderful organization, which also gives us a chance to work on some career skills.
My involvement has ranged from representing Special Olympics to the general public—like when I co-hosted an episode of Cabbie Richards Presents, where I and Mr. Richards interviewed star Toronto Argonauts players Marcus Ball, James Wilder Jr., and James Franklin—and also by helping out behind the scenes, such as the multiple summers I worked as a Student Intern at Special Olympics Ontario. I have started a new fall internship this year, working with Special Olympics Ontario from home as I study journalism at Ryerson University online.
How I've been staying healthy and active at home:
When the Covid-19 lockdown started, my basketball, soccer and track & field teams all moved very quickly to set up regular Zoom meetings so we could still socialize and train with each other across an otherwise very real physical distance. It has been a huge breath of fresh air in these trying times, and connecting with my Special Olympics family online is often the highlight of my week.
During COVID-19, Healthy Athletes and Special Olympics Canada have been using social media to educate and connect Athletes who previously got health training from their sports teams. I've seen a lot of my friends posting to Instagram with workout videos and pictures of healthy food they've been cooking! Healthy Athletes is also training new Health Messengers during Covid, and I was one of many Athletes across the U.S. and Canada to take part in SO North America's first online Health Messenger training.
The Healthy Athletes program at competitions is also amazing - the screenings are basically free healthcare given to one of Ontario's more vulnerable communities. They have given me and countless other Athletes free prescription glasses! One time at a Special Smiles screening, I told the dentist checking on me that I'd been experiencing a lot of gum pains recently, and he discovered my wisdom teeth were growing in!
My favourite memory:
On my basketball team, the higher-division Athletes stay around after practice to help coach our teammates on the Recreational Division. I did a lot of 1-on-1 coaching with an athlete who we'll call Paul; Paul joined the team as a quiet, restless young man who got overwhelmed easily, which made it a struggle for us to coach him. Over time, me and Paul worked together every Saturday for months, until he was not only able to practice shooting and dribbling by himself, but also started talking with other coaches and athletes on the team, when before he was so shy that he'd turn away from anyone who wanted to speak with him.
When I think of the best things I've done in Special Olympics, I think of the incredible progress made by athletes like Paul, and how Athlete Leaders like myself can help our peers get to that point.
Why you should Draft an Athlete to help us get back to the playing field:
A lot of people tend to think of Special Olympics as an isolated community, but the truth is, people with Intellectual Disabilities are all around you. We're your neighbours, your coworkers, your teammates, the people you see on the bus during your commute to work and that guy behind the counter of Tim Hortons you order your double-double from. Investing in Special Olympics isn't just encouraging the development and success of an organization, it's fostering those same qualities in Canadian people.
What I'm looking forward to most when returning to our regular Special Olympics programming:
Seeing my friends in person again.
Make a donation to support Callum and his fellow athletes across Canada:
YOUR DONATION WILL BE MATCHED!
A generous donor has committed up to $60,000 in matching funds for Draft an Athlete.