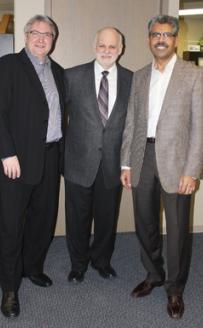 In his decade with the Special Olympics BC Board of Directors, John Sims was a true champion of Special Olympics, and a generous and wholehearted supporter of the goals and ideals of this organization. In recognition of Sims' dedicated and thoughtful service to SOBC, his friends and associates have chosen to honour the significant impact he has had on the lives of so many by creating an endowment fund in his name to benefit SOBC.
During his years with the SOBC Board of Directors, Sims gave generously in a wide variety of ways in order to ensure opportunities and life-changing experiences for Special Olympics athletes. An avid sports enthusiast, Sims was a strong advocate for the cause of Special Olympics athletes receiving the same kinds of training opportunities afforded to other athletes.
A distinguished Chartered Accountant, partner at Manning Elliott Chartered Accountants, and Executive Director at Ernst & Young LLP, Sims set an example of strong community service, giving his time to many charitable and community associations. In 1999, the Institute of Chartered Accountants of B.C. named him CA of the Year in recognition of his community service, and he was elected a Fellow of the ICABC in 2004 in recognition of his service and the honour he has brought to the accounting profession.
In addition to the personal generosity and vision Sims shared with SOBC, he brought his financial acumen to bear on our behalf as our Treasurer from 2006 to 2013. A compassionate and intelligent leader for the organization who always has the best interests of the athletes at heart, Sims was a strong advocate for SOBC's Performance Program initiatives, and he was passionate about SOBC helping our athletes improve their health and wellbeing by providing health screenings, athletic training, and nutritional information in programs.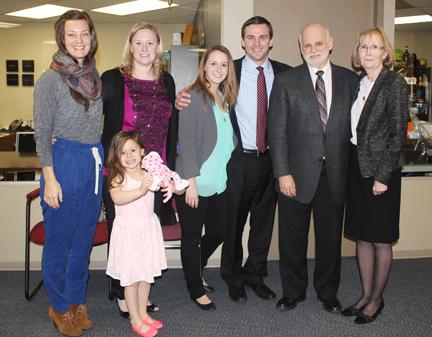 Sims truly made a mark on our organization. Recognizing and celebrating this, his friends and associates sought to honour him by launching the John M. Sims Fund to ensure the continuation of his vision and support of SOBC.
His business associates, family, colleagues, and friends from many areas of his life came together to support the idea. The first fund appeal was issued to friends, family, and fans of Sims at the beginning of March 2013, and by the month's end, donations in his honour totalled more than $60,000.
The creation of the fund was initiated by Milton Carrasco and Greg Forrester, longtime clients and friends. The idea was forged and those generous first donations drawn together without Sims' knowledge, and the surprise tribute was revealed to him on the morning of March 28, 2013, when members of his family, friends, and associates came together with SOBC staff at the provincial office to unveil the fund.
"We've created a fund here at Special Olympics BC in your name, John, to honour you for everything you've been to us, in every different way, whether it's doing charity work with Special Olympics, whether it's the professional group you've mentored, the many hundreds you've touched and been able to help out, your fishing buddies, clients, friends, and family," Carrasco said. "It's with great honour we have come together to say thank you for everything you've done."
SOBC President & CEO Dan Howe explained that he received a call from Carrasco about the idea for the fund one afternoon just after a meeting he'd had with Sims where they discussed the value of some of SOBC's current key initiatives, including the support and education being provided to help ensure athletes have the best health possible, and the Performance Program and the resonance we hope it will have in providing the best possible training for athletes and coaches.
"John was saying that we've got to find a way to put some money aside to make sure that we don't have to stop doing these programs in a year or two years or five years, so that we can be doing this for as long as it makes sense, and that when the next new initiative comes along, we don't have to stop, we can be sure we can do this," Howe said.
Carrasco's idea for the tribute fund fit perfectly with Sims' vision for the financial future of the organization, ensuring we will have funds to be a guaranteed source of income for key SOBC initiatives for many years to come, allowing us to look down the road
"The creation of this fund will absolutely help athletes for years and years to come," Howe said.
Donations are welcomed in a variety of ways:
By phone: 604-737-3180
By mail: The John M. Sims Fund
c/o Special Olympics BC, #210 – 3701 Hastings Street, Burnaby, BC V5C 2H6
Online: Please click here for our online donation form, and select "Make this donation in honour or in memory of an individual" in order to enter the John M. Sims Fund in the Honouree field
For more information on how you can support the John M. Sims Fund, please contact Heather Maciver, SOBC Vice President, Fund Development & Communications, at hmaciver@specialolympics.bc.ca or 778-689-9275.