Special Olympics Team BC 2020: Speed Skating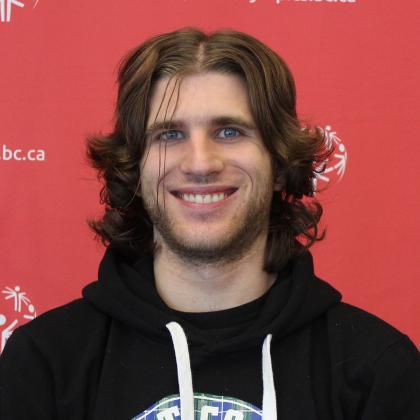 Special Olympics BC Local:
Surrey
Hometown:
Surrey
When and how did you get involved with Special Olympics?
I got involved with Special Olympics four years ago when a friend of mine asked me to come to a track practice and try it out.
Will these be your first Special Olympics Canada Games? If not, which other National Games did you compete in, and in what sports?
These would actually be my second National Games; my first were the National Summer Games in Antigonish, Nova Scotia, for track and field in 2018.
What were your results in the 2019 Special Olympics BC Winter Games? How did you feel about your performance?
I proudly brought home gold medals in all of my events: the 3000m, 1500m, and 1000m races!
What does it mean to you to be part of Special Olympics Team BC 2020?
I'm honoured to be part of a team of amazing athletes! We all achieved excellence in our sport because we were all determined to train hard and do our best.
What is your goal for these National Games?
My goal for the National Games is to have a positive attitude, skate my best, and try to achieve personal bests in all my races. Hopefully I get the opportunity to represent Canada in the 2021 Special Olympics World Games for speed skating!
What does competing at National Games mean to you?
Competing at Nationals means I get chance to represent my province and the core values of Special Olympics alongside many respected and empowering athletes.
What do you like most about the sport you will compete in at National Games?
What I really love about the sport is how I feel when I'm skating. I feel calm but strong and when I'm racing down the ice all my worries go away. In other words, I just feel happy!
What is your favourite Special Olympics experience to date?
My favourite Special Olympics experience to date would probably be the 2019 Provincial Winter Games in Vernon and all the fun I had with the other athletes at the Closing Ceremony, celebrating together!
What would you tell someone about Special Olympics to encourage them to get involved?
Well I would explain how Special Olympics has benefited me over the years with keeping me active and giving me opportunities I wouldn't have had if I wasn't part of Special Olympics. Mostly though, how many new friends I've made and that they should consider joining up because it's fun place to be.
What other Special Olympics sports do you participate in?
The Special Olympics sport that I participate in other than speed skating is track and field.
Please tell us a little bit more about yourself! What else would you like people to know about you?
Other than speed skating and track, I really love animals. I enjoy drawing and animation, comic books, science fiction, playing video games, getting out into nature, and going to movies with friends. My favourite colour is orange and I have been a vegetarian since I was three. I have a twin brother and work at U-haul .
What is one word you would use to describe yourself? :)
Enthusiastic!