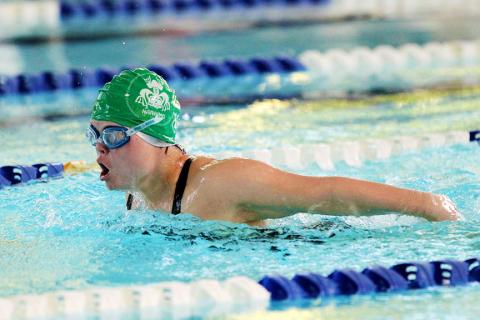 From July 19 to 22, 2018, Special Olympics BC athletes from around the province competed in the Cowichan 2018 BC Summer Games in athletics and swimming.
The BC Summer Games provides a competitive multi-sport environment that supports the development of athletes, coaches, and officials as they move on to higher levels of competition. 
These BC Games are distinct from Special Olympics BC Games, which are our Provincial Games hosted by SOBC solely for SOBC athletes.
SOBC athletes have been showcasing their skills in the generic BC Games for 14 years, competing in Special Olympics divisions. Prior to 2014, SOBC athletes at BC Games competed in athletics and swimming. Their expansion into BC Winter Games began in 2014 with basketball and continued in 2016 with the addition of figure skating.
 With past Games experience including the 1991 BC Winter Games, 2005 BC Seniors Games, and the 2008 North American Indigenous Games, Cowichan has a rich history of hosting. The community and volunteers are energized and ready to stage Games for athletes, coaches, and officials from across the province.
Below is a list of the SOBC athletes who will be participating in Cowichan:
Athletics
Female
| | | |
| --- | --- | --- |
| Name | Hometown | Zone |
| Sandra Malku | Richmond | 5 |
| Olivia Neuman | Surrey | 4 |
| Krista Grzybowski | Duncan | 6 |
| Tawny Irene Daw | Duncan | 6 |
| Amber Maher | Gibsons | 5 |
| Lauren Simpson | Surrey | 4 |
| | | |
| --- | --- | --- |
| Coach | Hometown | Zone |
| Joanne Turnbull | Coquitlam | 4 |
| Sarah Kedves | Victoria | 6 |
Male
| | | |
| --- | --- | --- |
| Name | Hometown | Zone |
| Thomas Rak | Surrey | 4 |
| Max Porcher | Lazo | 6 |
| Devon Marsland-Anderson | Coquitlam | 4 |
| Matthew Burns | Mission | 3 |
| Michael Phillips | Nanaimo | 6 |
| Matthew Groenke | Coquitlam | 4 |
| Allen Hanner | Duncan | 6 |
| Harrison Stuyt-Withnall | Surrey | 4 |
| | | |
| --- | --- | --- |
| Coach | Hometown | Zone |
| Deborah Carter | Surrey | 4 |
| Leo Landaverde | Surrey | 4 |
Swimming
Female
| | | |
| --- | --- | --- |
| Name | Hometown | Zone |
| Coty Lapschies | New Westminster | 4 |
| Kayla Willms | Coquitlam | 4 |
| Amy Nelson | Coquitlam | 4 |
| Clara Kodweiss | Qualicum Beach | 6 |
| Mikyla Carlow | Youbou | 6 |
| Debbie McNaughton | Salt Spring Island | 6 |
| | | |
| --- | --- | --- |
| Coaches | Hometown | Zone |
| Marilyn Farquhard | Langley | 3 |
| Megan Owens | Chilliwack | 3 |
| Abigail Robbins | Chilliwack | 3 |
| Erica McCluney | Grand Forks | 1 |
Male
| | | |
| --- | --- | --- |
| Name | Hometown | Zone |
| Nicholas Hui | Burnaby | 4 |
| David Jonathan Gilbert | North Van | 5 |
| Justin King | Mission | 3 |
| Shayne Blandin | Qualicum Beach | 6 |
| Donovin MacCumber | New Westminster | 4 |
| | | |
| --- | --- | --- |
| Coaches | Hometown | Zone |
| Russell Turnbull | Port Alberni | 6 |