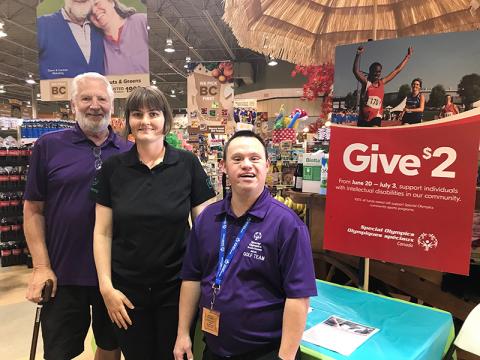 Since 2016, Sobeys Inc. has been a proud national partner of Special Olympics Canada. Empowering Special Olympics athletes to live healthier lives has been a mission for Sobeys from the earliest days of our national partnership. Here's how Sobeys is involved with Special Olympics across Canada:
In 2020, Sobeys made an impactful $1 million donation to Special Olympics Canada, and has continued to support the Special Olympics community with nutrition education. Read more
In 2019, Sobeys made a difference through their second annual fundraising campaign. In Sobeys, Safeway, Thrifty Foods, IGA, Foodland, and Urban Fresh stores across the country, staff encouraged customers to make a donation at the checkout. In total, this successful campaign raised almost $930,000 for Special Olympics programs across Canada. Read more 
Support for Special Olympics is year-round – from food donations for provincial events, to in-kind support, fundraisers organized by local stores and a national corporate commitment.
Special Olympics athletes are employed in stores from coast to coast – helping Sobeys build a powerful understanding of how to create a diverse and inclusive workforce. Read more about SOBC – Delta's Scott Fattedad, a popular Thrifty Foods employee in Tsawwassen. 
In 2018, Sobeys launched Nutrition Sessions, focusing on tools and tips to make healthier food choices, while bringing together employees, athletes, volunteers and families/caregivers. More than 100 Sobeys office employees have been trained to share their passion for better food by volunteering their time to lead Sessions in select communities across the country.
Special Olympics BC is so thankful to all the Sobeys, Safeway, Thrifty Foods, and IGA stores and customers throughout our province who generously support SOBC athletes and programs!
Stories
Read more about Sobeys, Safeway, and Thrifty Foods support of Special Olympics in B.C.
In March 2011, Special Olympics BC athlete Matthew Williams inspired a room full of 500 Safeway employees from the Lower Mainland on the kickoff day of Safeway's fundraising campaign for Special Olympics. Watch Matt in action below: