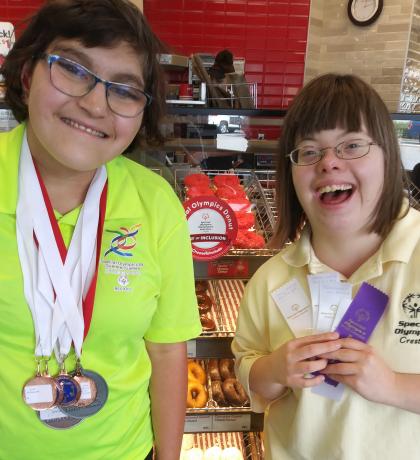 An important sponsor of Special Olympics Canada, Tim Hortons helps promote respect and inclusion in communities across the country.
Tim Hortons has been a strong supporter since 2016, raising significant awareness and funds for Special Olympics programs all around the country. Their nationwide efforts help empower Canadians with intellectual disabilities to experience sports, fitness, and friendship and change attitudes through year-round Special Olympics sport programs.
During their 2022 Choose To Include campaign, Tim Hortons customers from all over the country raised a campaign record of nearly $600,000 for Special Olympics athletes by purchasing a limited-edition donut.
"At Tim Hortons, we believe in the power of sport. We know that through sport, we can discover new strengths and abilities, develop new skills, and find joy, confidence, and fulfillment," said Hope Bagozzi, Chief Marketing Officer of Tim Hortons. "We're so proud to be a long-standing partner of Special Olympics Canada and to play a role in helping support this important organization's incredible work."
The 2022 event was especially important. Every donut purchased during this campaign went directly to helping Special Olympics athletes get back on the fields of play. Having been disproportionately affected by the pandemic, Special Olympics athletes are ready to return to the friendships, connections, and activities that Special Olympics sports and programs offer.
Many communities across B.C. reported that their local Tim Hortons staff and managers really rolled out the welcome mat to celebrate and involve the athletes.
"I'm grateful to Tim Hortons because they support me and all the other athletes in reaching our goals. The #ChooseToInclude Donut means to me, it doesn't matter who you are, everyone is accepted," SOBC – Richmond athlete Vincent Li told Richmond Times.
Tim Hortons consistently serves up support for Special Olympics initiatives in B.C. They provide SOBC with gift cards that help fuel our programs, fundraisers, and day-to-day operations.
Very grateful to Tim Hortons for being a champion of inclusion and generous supporter of Special Olympics!