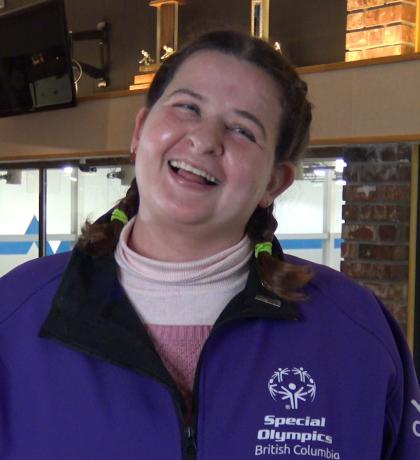 The 2023 Special Olympics BC Games presented by Prospera Credit Union happened from February 2 to 4 in Kamloops! Athletes with intellectual disabilities from all over the province were thrilled to be coming back together in Kamloops to reconnect with friends, challenge themselves in competition, and show their abilities in the sports they love.
In the months and weeks leading into the 2023 SOBC Games, athletes were training hard in their hometown programs. They put in the work to pursue personal bests at Provincial Games!
They shared their successes and passion throughout the lead-up to these joyful Games. Enjoy some of their stories below, and check our website and social media for more updates to come from athletes around the province! 
Hundreds of Kamloops volunteers have stepped up in a huge way, filling the necessary roles to provide an outstanding experience for the Special Olympics BC Games participants. Special Olympics BC is so grateful for the tremendous volunteer response, which is so characteristic of the Kamloops community.
Donate to help athletes get back in the game
Bridget Colvin
Curling, Region 4, Burnaby
Reid Demelo
Speed skating, Region 3, Coquitlam
Lori Urban
Alpine skiing, Region 3, Coquitlam
Susan Wang
Alpine skiing, Region 3, Surrey
Mary Adamson, Ann Forbes, Vincent Li, Sandra Malku, Katelyn Oliver, Brayden Pawer, Danielle Pechet, Torben Schuffert, and Steven Schwebbach