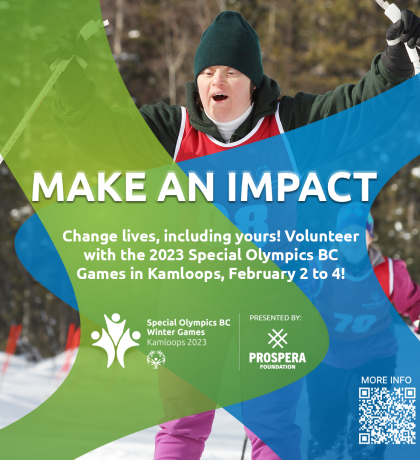 Caring businesses, inclusive government partners, generous donors, and dedicated volunteers are helping bring the 2023 Special Olympics BC Winter Games to life in Kamloops from February 2 to 4.
Prospera Credit Union has been one of SOBC's valued provincial partners since 2017, contributing funds, staff volunteerism, and awareness opportunities to support SOBC's dedicated athletes with intellectual disabilities and empowering year-round programs. In keeping with their commitment to doing local good, Prospera Credit Union stepped up to become the Presenting Sponsor of the 2023 SOBC Winter Games.
"It's been an honour for Prospera to partner with Special Olympics British Columbia over the past five years. We're excited to continue our support as the Presenting Sponsor of the 2023 SOBC Winter Games," says Kirsten McElgunn, Chief Product and Strategy Officer at Prospera Credit Union. "These Games will be a rewarding event that bring together athletes, volunteers, coaches, families, and spectators from our communities across B.C. We know these fierce Special Olympics athletes have been training hard for the past year, and we can't wait to see them compete and celebrate their achievements."
"Prospera Credit Union has shown time and again that they care about creating stronger, more inclusive communities and life-changing opportunities for athletes with intellectual disabilities. We are so proud and grateful to expand our partnership with Prospera Credit Union as the Presenting Sponsor for the 2023 Special Olympics BC Winter Games," SOBC President & CEO Dan Howe says.
The Special Olympics BC Games would not be possible without the leading role of valued sponsors including Prospera Credit Union and:
We're so grateful to the valued Games sponsors, to SOBC's dedicated provincial sponsors, and to the generous donors who have given from their hearts, in order to create connections and competitive opportunities for SOBC athletes. 
"In these unique times, Special Olympics BC is ever more grateful to the sponsors and partners who make empowering Provincial Games experiences possible. Their leadership makes a significant difference by creating opportunities, inclusion, and respect for athletes with intellectual disabilities," Howe says.
The contributions of Kamloops volunteers are also critical to the Games. SOBC is so grateful to Games Chair Jan Antons and the volunteer Games Organizing Committee, and to everyone who has signed on for rewarding volunteer roles during the Games!

About the 2023 SOBC Winter Games presented by Prospera Credit Union
Set to be held in Kamloops from February 2 to 4, the 2023 SOBC Winter Games presented by Prospera Credit Union will star approximately 500 athletes with intellectual disabilities competing with pride in the eight SOBC winter sports: 5-pin bowling, alpine skiing, cross country skiing, curling, figure skating, floor hockey, snowshoeing, and speed skating. The participating athletes will be supported by approximately 150 volunteer coaches and mission staff. SOBC will need the support of approximately 800 valued local volunteers to put on this empowering competition. Find volunteer registration opportunities and full details at www.sobcgameskamloops.ca.
About Special Olympics BC
Special Olympics BC is dedicated to enriching the lives of individuals with intellectual disabilities through sport. In 55 communities around the province, we provide year-round training and competitive opportunities in 18 different sports to more than 5,200 athletes of all ages and a wide range of abilities, thanks to the dedicated efforts of over 4,300 volunteers. Special Olympics BC – Kamloops operates year-round sport, youth, and fitness programs for athletes with intellectual disabilities, and always welcomes new members. All Special Olympics BC events and programs operate with strong safety protocols in place to prioritize the health of participants. For more information, please visit www.specialolympics.bc.ca and find us on Facebook, Instagram, TikTok, and Flickr @specialolympicsbc and Twitter @sobcsociety. To learn more about SOBC – Kamloops, visit www.sobckamloops.org or find them on Facebook.
About Prospera Credit Union
Local banking means investing in Local Good. Built on over 75 years as a BC credit union, Prospera Credit Union is a community-based, purpose-driven organization that offers a full range of financial products and services. Prospera is British Columbia's fourth-largest credit union, with $9 billion in assets and 120,000 members. With 26 branches, Prospera is proud to serve communities from Vancouver, through the Fraser Valley, and to the Okanagan. It's our vision to help build vibrant, healthy communities, thriving local enterprises and financially empowered people. To learn more about Prospera Credit Union, visit prospera.ca.