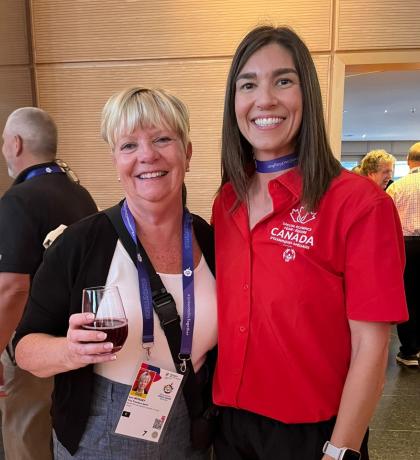 After three decades of game-changing work as a Special Olympics BC staff member, Lois McNary is retiring from her role as Vice President, Sport, at the end of 2023.
In 1982, Lois began volunteering with Special Olympics BC in Coquitlam, playing an essential role in establishing programs in the community. She was soon hired into the organization's small staff and quickly became a vital leader of Special Olympics sport and program development, not only in our province, but throughout Canada, North America, and the global movement.
Throughout her 30 years of trail-blazing work with Special Olympics, Lois has been a passionate champion of the abilities of athletes with intellectual disabilities, and the impact of Special Olympics BC's dedicated and skilled coaches and volunteers.
Lois led many successful Special Olympics BC Games and guided many provincial and national teams to achieve greatness at Special Olympics Canada and World Games. At the same time, she led critical growth and ongoing sport and quality excellence in year-round Special Olympics community programs across the province.
Over the years, Lois has been known and celebrated for her passion, commitment, and vision for this life-changing movement. In 2012, she was inducted to the Coquitlam Sports Hall of Fame as a Builder, recognizing her significant impact on Special Olympics in the community and across the province. She also earned a Queen Elizabeth II Diamond Jubilee Medal in recognition of her service to the Special Olympics movement provincially, nationally, and globally.
Lois's last day in office will be December 15. Please join us in recognizing and thanking Lois for her enduring impact and for opening so many hearts and minds to the abilities of athletes with intellectual disabilities!
In recent months, Lois has been working with SOBC Sport & Program Director Michelle Cruickshank as she prepares to transition into the role of Vice President, Sport. Their mutual efforts and shared passion for the people and purpose of Special Olympics BC have ensured a strong transition with sustained knowledge of our movement's sport and program essentials and vision.
Michelle has been a Special Olympics BC staff member for more than nine years, beginning as a Community Development Manager for Vancouver Island and transitioning into leadership roles with the program and sport teams. She brings added passion and experience from her family's involvement with Special Olympics, as her uncle is a longtime SO Saskatchewan athlete with many achievements to his credit, and Michelle has been cheering him on and involved with the movement for as long as she can remember.

Share your well wishes and connect with Special Olympics BC staff