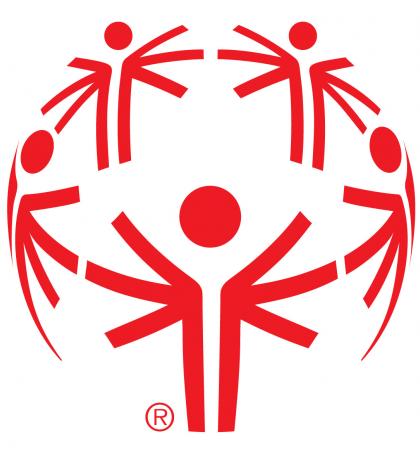 Special Olympics BC – Victoria athlete Jennifer Ferrier is passionate about health, and about sharing the benefits of fitness, nutrition, and good health with others. After completing Special Olympics BC Health Heroes training in spring 2017, Ferrier applied and was selected to become a Special Olympics Health Messenger.
In September 2017, Ferrier travelled with her mentor Kendal Alston, SOBC – Victoria Local Coordinator, to Washington D.C. to join Special Olympics athletes and mentors from all over North America for the Health Messenger training. Ferrier returned home enthusiastic and equipped with an inspiring speech that she can deliver to all SOBC – Victoria sport programs in hopes of helping and encouraging fellow athletes.
"I learned that a lot of Special Olympics athletes are not as fit as they could be," Ferrier said, and she would like to try to help others become "a little bit more fit so they'll have more energy to do the sports they want to do, and to eat a little bit more healthy."
Ferrier has observed the health struggles of some fellow athletes and says, "I've been there." Currently a 10-pin bowling athlete who joined Special Olympics about 12 years ago, Ferrier came to the realization that her weekly sport practices on their own weren't enough to lose weight – she needed to be active throughout her life and eat better to help in her sports and overall health.
"I started to do little things" like walking more and faster, Ferrier said. Then she introduced a meal plan into her life, and that combined with her increased activity levels helped her go from weighing 147 pounds to 120.
But after knee injuries in 2013 and 2015, Ferrier said she struggled trying to keep up her fitness. Then, she said, "that encouraged me to start working out because if I didn't, I wouldn't be able to do all the sports that I want to do."
Qualifying to compete in the 2017 Special Olympics BC Summer Games provided additional motivation. "I got back to what I was doing, and I started working out again," Ferrier said. "Getting into Provincials was what pushed me." She lost 35 pounds to bring her weight back down to 120 pounds, and went to the 2017 SOBC Games ready to compete with pride.
"I came home with a bronze and a silver," she reported.
Now, Ferrier says, "I do find that I have a lot more energy." She practices careful eating habits, eating balanced meals and limiting herself to one treat a month, like a small iced tea. Ferrier, who has worked for Victoria's Club Phoenix Fitness for six years as a janitor, ends her work days with a half-hour workout of her own. She also practices good sleeping habits, limiting screen time in the hour before sleep and keeping a regular bedtime.
"I feel better after I work out. I feel strong, I feel motivated," Ferrier says. She notes that after eating unhealthy snacks, you don't have energy. "I didn't like that crashing feeling, and trying to sleep when you have a lot of sugar in you is hard too."
Ferrier wants to share the importance of health and fitness widely with fellow athletes, and now is equipped with a great speech she will deliver to encourage more exercise and fitness. In her speech, which is based around Canada's physical activity guidelines for adults, Ferrier will encourage SOBC – Victoria athletes to improve their fitness to help both their performance in sport and their overall health. She will encourage SOBC – Victoria athletes to take responsibility for getting quality physical activity outside their Special Olympics programs and to set an example for Special Olympics athletes throughout the province and the world by becoming as fit as possible.
People with intellectual disabilities face significant health challenges and dramatically higher rates of preventable disease, chronic pain and suffering, and premature death in every country around the world. Advocacy by Special Olympics athletes like Ferrier will help change the game for athlete health. Special Olympics BC's health initiatives aim to combat these issues, with the help of the Golisano Foundation and the ongoing support of our provincial partners and fundraising events, including the leading role of the Government of British Columbia and the generous support of provincial partner Westminster Savings.
Special Olympics BC Health Heroes training, supported by the Golisano Foundation Special Olympics Healthy Communities grant, has empowered athletes to become leaders in sharing education about health. At the spring 2016 SOBC Athlete Leadership courses, 27 athletes completed training to become Sun Safety Health Heroes. In spring 2017, another great group of athletes (including Ferrier) were trained as Health Advocates and Healthy Athletes Screenings Health Heroes, equipping them to spread the word about health and the value of Healthy Athletes screenings.
Athletes are doing a wonderful job of taking on health advocacy roles at events and spreading the word among their peers. SOBC – Vancouver's Sheryl Spurr ran a popular sun safety booth at the 2017 motionball Marathon of Sport Vancouver (pictured at right), SOBC Board of Directors member and SOBC – Richmond athlete Vincent Li was a very effective advocate for sun safety at the 2017 Goldcorp Invitational Golf Tournament, and SOBC – Kamloops athletes served as health advocates at opportunities during the 2017 SOBC Summer Games.
If you'd like to become a Health Hero, please contact Sarah Russell, SOBC Coordinator, Health and Sport Science, to learn about training opportunities: srussell@specialolympics.bc.ca / 604-737-3081 / 1-888-854-2276 toll-free.
There may already be a Health Hero in your community – if you would like to work with them, please contact Sarah and SOBC's Michelle Cruickshank: mcruickshank@specialolympics.bc.ca / 250-208-5402 / 1-888-854-2276 toll-free.