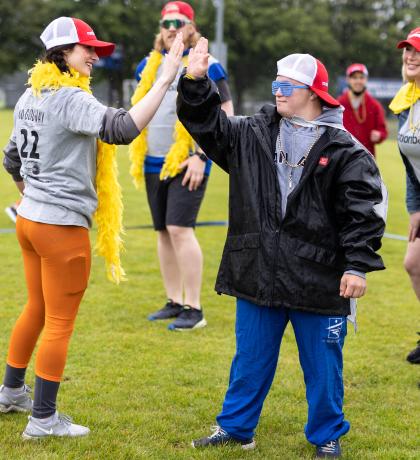 Since 2002, motionball has been helping change lives and minds across Canada. Founded by Toronto's Etherington family, motionball's fun-filled social and sport events bring Special Olympics athletes and young professionals together to celebrate inclusion, camaraderie, and friendship. These events help grow the next generation of Special Olympics supporters and build inclusive communities throughout the country.
motionball events also contribute significant fundraising income to the Special Olympics Canada Foundation, and have raised over $13 million net to help provide sport and competition programs to Special Olympics athletes.
In motionball's flagship event Marathon of Sport, young professionals spend a day playing sports with Special Olympics athletes from their communities. In B.C., the 2022 Marathon of Sport Vancouver presented by Methanex and Marathon of Sport Kelowna presented by Kelowna Toyota brought high-fives, smiles, and joy to participants and spectators alike.
Held at the University of British Columbia, the 2022 motionball Marathon of Sport Vancouver was a huge success, as 41 Special Olympics BC athletes teamed up with young professionals, and raised $130,000 for the Special Olympics Canada Foundation.
In September, the 2022 motionball Marathon of Sport Kelowna hit the grounds at City Park for an amazing day of sports and fun. 45 SOBC athletes showcased their abilities in multiple sports, all while having fun and connecting with teammates. The 2022 event raised $240,000!
In October 2022, fitness enthusiasts nationwide rallied their strength for Special Olympics at CF24, an annual motionball event that challenges participants to take on a marathon of workouts to raise funds and awareness for Special Olympics programs across Canada.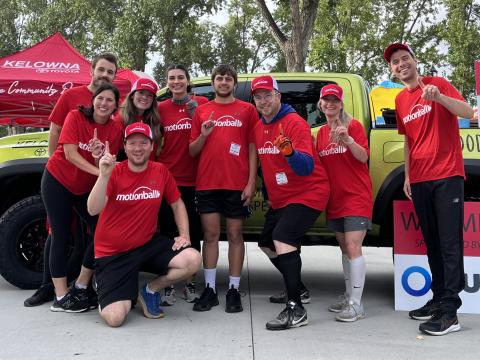 In B.C., CrossFit gyms around the province stepped up to the CF24 plate, taking on a series of workouts throughout the day alongside Special Olympics athletes from their community, who came out to show their support and physical strength!
motionball also integrates their fun-filled events in Canadian universities with motionballU. The motionball University program was established to give Canadian university students the opportunity to create meaningful, relevant ways to support Special Olympics through their own on-campus initiatives and events.
motionballU 2023 events are coming soon! Thompson Rivers University and UBC's Okanagan campus are hosting their events on March 25, and UBC's Vancouver campus will host their event on March 26.
A staple of any motionball event is the joyful and welcoming team spirit from both the Special Olympics athletes and participants. These events engage and introduce the next generation of Special Olympics supporters to our movement, helping share our message of hope and inclusion while raising vital funds for the Special Olympics Canada Foundation. 
Our heartfelt thanks to the all the athletes, volunteers, organizers, and supporters who make motionball events so successful!